---
Hank Williams, Jr. Artist Profile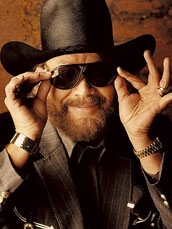 Hank Williams, Jr.
Real name: Randall Hank Williams
Artist name(s): Bocephus
Date of Birth: May 26, 1949
Sign: Gemini
Place of birth: Shreveport, LA, US
Website: www.hankjr.com
Hank Williams, Jr. Biography
The son of Hank and Audrey Williams, Hank Jr. was born in Shreveport, LA, in 1949. Less than four years later, his father died, leaving behind a huge legacy. When Hank Jr. was eight years old, Audrey decided to push her son into the spotlight, positioning him as the rightful heir to his father's legacy. Dressed in a white Nudie suit, he would sing Hank Sr.'s biggest hits on package tours, and by...
Hank Williams, Jr. Pictures
---