---
Reba McEntire Biography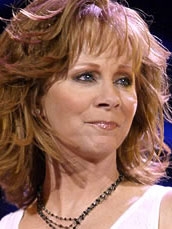 Reba McEntire Biography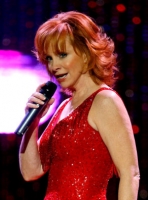 Reba Nell McEntire is an American country music singer, performer and actress. Sometimes referred to as "The Queen of Country", she is known for her lively stage-shows and pop-tinged ballads. She has issued 31 albums, with over 55 million records sold worldwide in her 33-year career.
Reba McEntire was an enormously successful female recording artist in country music in the 1980s and 1990s, during which time she scored 23 number-one hits (she remains second only to Dolly Parton as the female performer with the most number-one country singles over the course of her career) and released five gold albums, six platinum albums, two double-platinum albums, four triple-platinum albums, a quadruple-platinum album, and a quintuple-platinum album, for certified album sales of 33.5 million over the 20-year period. She expanded her activities as an actress in film, on stage, and particularly on television, where she starred in a situation comedy, Reba, which lasted from 2001 to 2007.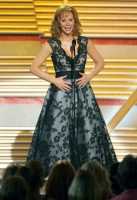 In 1974, while majoring in teaching at Southeastern Oklahoma State University in Durant, McEntire sang "The Star Spangled Banner" at the National Rodeo Finals in Oklahoma City. Rodeo attendee and country singer Red Steagall suggested that she go to Nashville to pursue a solo career. She scored a contract with Mercury Records and began her professional career with a hard honky tonk sound, which didn't go over well at a time when country music was dominated by outlaw country artists like Willie Nelson and David Allan Coe, and country-pop artists like Kenny Rogers and Crystal Gayle. Around the time of the release of her first album, she married Charlie Battles, a professional steer wrestler and bulldogger.
McEntire's first charting single, "I Don't Want to Be a One-Night Stand," peaked at #88 in 1976. The song was from McEntire's debut album, Reba McEntire. Her first Top-20 entry came in 1978 with "Three Sheets in the Wind/I'd Really Love to See You Tonight" (duets with Jacky Ward). This was a one-off single, however, not appearing on any album. Her second album, Out of a Dream, gave her 5 Top-40 hits, the biggest being a rendition of Patsy Cline's "Sweet Dreams," which made it to #19 in 1979. McEntire considers Cline one of the biggest influences on her career. McEntire continued to make strides on the singles chart, reaching the Top 10 for the first time with "(You Lift Me) Up to Heaven," which peaked at #8 in August 1980. "Feel the Fire," her third album, released in October 1980, was another chart failure, but after a couple more Top-20 singles she reached the Top Five with "Today All Over Again" in October 1981. The song was featured on her fourth album, Heart to Heart, released in September, which helped it become her first to chart, reaching #42 in the country LP list. She achieved a new high on the singles chart in August 1982 when "I'm Not That Lonely Yet" reached number three. It was included on her fifth album, Unlimited, released in June 1982, which hit #22. But that was only the beginning. The LP also spawned "Can't Even Get the Blues" and "You're the First Time I've Thought about Leaving," which became back-to-back number-one hits in January and April 1983. By then, she had moved up from playing nightclubs and honky tonks to being the regular opening act for the Statler Brothers. She went on to work in the same capacity with Conway Twitty, Ronnie Milsap, Mickey Gilley, and others. These songs, like others at the time had a Country-Pop sound to them, unlike some of McEntire's later hits.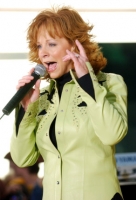 With more pop-oriented balladry, Reba McEntire began to expand her audience during the early 1980s. In 1984, she signed to MCA Nashville and quickly became one of the best-selling country artists of all time. She released her first album with the label, Just a Little Love, the same year. After McEntire signed with MCA, Mercury released The Best of Reba McEntire in 1985. Two years later she released her first collection of greatest hits for MCA, simply titled Greatest Hits. No new material was recorded for the album. The album was later re-released as Reba McEntire's Greatest Hits in 1992, which featured an alternate album cover. McEntire had bigger plans for her second album under MCA. Set to have Harold Shedd produce her next album, she rejected his suggestions for songs and the sweetened arrangements he imposed on them and appealed to Jimmy Bowen, the newly-installed president of MCA's country division. Bowen allowed her to pick her own material and to eliminate the strings and other pop touches used on Just a Little Love and her Mercury releases. The result was My Kind of Country, released in November 1984, which was dominated by covers of old country songs previously performed by Ray Price, Carl Smith, Connie Smith, and Faron Young. Even before the album's release, however, its advance single, "How Blue," hit number one. My Kind of Country was McEntire's first album to go gold by the RIAA, while it also peaked at #13 on the Top Country Albums chart. The second (and last) single from the album, "Somebody Should Leave" also hit #1, and set the stage for a string of McEntire hits that would eventually reach #1 on the Country charts.
McEntire won the "Female Vocalist of the Year" award from the Country Music Association four times in a row (1984, 1985, 1986, and 1987). She is the only woman in the Association's history to win the award four years in a row, but not the only woman to win the award four times. Martina McBride shares that honor with McEntire (1999, 2002, 2003, 2004). McEntire is one of only five solo female artists (others include Shania Twain, Barbara Mandrell, Dolly Parton, and Loretta Lynn) to win the Country Music Association's highest honor, "Entertainer of the Year".
In 1986, McEntire released the album Whoever's in New England. The album, along with the title track, put McEntire on the map, and from then on Reba McEntire was a household name. While "Whoever's in New England" was not her first number-one single (it was actually her fifth), the song was considered her first career record and the album was her first number-one album. The song also earned McEntire her first Grammy Award. It is seen by many as an "answer song" to Barry Manilow's 1976 "Weekend in New England" hit, as sung by the wife of a philandering husband who has an ongoing affair with someone in New England. It was accompanied by McEntire's first music video. Later that year, Southeastern Oklahoma State University honored her as a distinguished alumna. By this time, McEntire started co-producing her own records, starting with Whoever's In New England. She would continue this tradition the rest of her career.
McEntire released her next album, What Am I Gonna Do About You, in September 1986, prefaced by the single of the same name that hit #1, as did the gold-selling LP, which also featured the chart-topping single "One Promise Too Late." She released Reba McEntire's Greatest Hits in April; it became her first platinum album and eventually sold over three million copies. (It also became her first album ever to cross over to the pop charts.) McEntire's string of hits continued with the release of The Last One to Know in September 1987, prefaced by the single of the same name that reached #1 in December. The album, also featuring the number-one hit "Love Will Find Its Way to You," reached #3 and eventually went platinum.[5]
In 1988, Reba, which featured "New Fool at an Old Game," reached #1, as did the single "I Know How He Feels." The album's lead-off single was "Sunday Kind of Love," a cover of the 1947 Jo Stafford pop hit. It peaked at #5 in July. Also in 1988, McEntire founded Starstruck Entertainment, a company that handled management, booking, publishing, and other aspects of her career and, eventually, represented other artists as well. McEntire released two albums in 1989. Sweet Sixteen was released in May, while a live LP, Reba Live, was released in August. The album Sweet Sixteen featured the number-one hit "Cathy's Clown," a song recorded originally by The Everly Brothers. McEntire's string of number-one hits continued throughout the 1980s and into the early 1990s. In 1990, McEntire released the album Rumor Has It. The album featured the number-one hit "You Lie" and also included "Fancy." The latter became McEntire's signature song and CMT ranked it at #26 on its list of the 100 Greatest Country Songs. The video ranked #35 on the list of the 100 Greatest Country Videos. "Fancy" was considered one of the greatest songs of all time. Most recently on the 2008 version of the 100 Greatest Country Videos "Fancy" ranked at #13.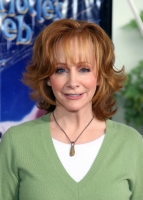 Reba McEntire was riding at the top of success. Personally, however, her world would come crashing down in the spring of 1991. On March 16, a plane carrying seven of McEntire's band members and her road manager crashed, killing all on board. McEntire was devastated. There was a minor controversy over her decision to perform on the Academy Awards a week after the crash. But she appeared on the show to dedicate the nominated song "I'm Checking Out" from the film Postcards From the Edge, to her fallen band members. During the performance, McEntire was visibly emotional, holding back tears. She had been known to refer to them as her "Crazy Eight." Ultimately, she earned the respect and affection of her peers for her decision and her stoic toughness and perseverance. She dedicated her next album, For My Broken Heart, to them when it was released in October. The disc was another hit, going gold and platinum simultaneously shortly after its release and eventually selling four million copies, its singles including the chart-topping title song and another #1, "Is There Life Out There?" Her 17th album, It's Your Call, released in December 1992, was an immediate million seller, eventually going triple platinum. (It was also her first Top Ten pop album.) Its biggest single was "The Heart Won't Lie," a duet with Vince Gill that hit #1 in April 1993. McEntire's next #1 was also a duet, "Does He Love You", sung with Linda Davis; it hit #1 in November 1993 and was included on her September release Greatest Hits Vol. 2, an album that sold two million copies practically out of the box and another three million over the next five years. "Does He Love You?" won McEntire her second Grammy for Best Country Collaboration with Vocals, and a CMA award for Vocal Event of the Year.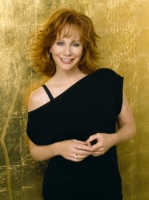 Her 18th regular studio album, Read My Mind, appeared in April. Another million-seller that went triple platinum, it produced five country chart singles, among them, "The Heart Is a Lonely Hunter" and, controversially, "She Thinks His Name Was John," a song about a woman who contracts AIDS from a one-night stand. Even McEntire's star power could only propel such an atypical country subject as high as #15. Meanwhile, she had parts in two feature films released during the summer, a speaking role in the drama North and a cameo in the children's comedy The Little Rascals. (She also made an uncredited appearance in the Western film Maverick and its soundtrack album.) She executive produced and starred in a TV movie based on her song, Is There Life Out There? Her autobiography, Reba: My Story, became a best-seller. Renowned for her flashy stage performances, McEntire was the first woman to have the highest grossing concert tour in country music. In 1994 and 1995, her stage show outgrossed all other country artists. For her contribution to the recording industry, McEntire has a star on the Hollywood Walk of Fame at 7000 Hollywood Blvd. In 1995, she was inducted into the Western Performers Hall of Fame at the National Cowboy & Western Heritage Museum in Oklahoma City. McEntire's 19th album, Starting Over, was released in October 1995. Intended to mark the 20th anniversary of her recording career, it was a collection of covers of well-known songs. It not only topped the country charts but hit #5 in the pop charts, selling a million copies. But, boasting only one Top-Ten hit, a revival of Lee Greenwood's "Ring on Her Finger, Time on Her Hands" among three chart singles and not achieving a multi-platinum certification, it suggested that McEntire finally had peaked commercially in country music. In 1996, Reba scored a #2 hit on the Dance/Club play charts with a remix of "You Keep Me Hangin' On." The CD single, which contained four different mixes of the song, peaked at #4 on the sales charts.
She returned to the country charts with her 20th album, What If It's You, released in November 1996. The album spawned four Top-20 hits, with "How Was I to Know" reaching #1 and "The Fear of Being Alone" and "I'd Rather Ride Around with You" each reaching #2. Simultaneously certified gold and platinum, the album eventually topped two million copies. While the number-ones slowed down, and album sales did not match the success of Greatest Hits Volume Two, McEntire remained one of the most successful music artists. A string of hits continued through the mid to late 1990s with songs such as "Why Haven't I Heard From You?", "And Still," and "If You See Him," a duet with Brooks & Dunn. She teamed up again with Brooks & Dunn in the spring of 1998 for a single called "If You See Him/If You See Her." It hit #1 in June, helping to set up the release of her 21st album, If You See Him, which also brought her three additional Top-Ten hits on its way to selling a million copies. She appeared in the TV movie Forever Love (the title of one of those Top-Ten hits) during the year and made several guest-star appearances on TV series. Her 1997 package tour with Brooks & Dunn was the largest grossing tour in country music history until it was surpassed the next year by Canadian country singer, Shania Twain's Come on Over Tour. In May 1999, McEntire had two new albums ready for the fall. The Secret of Giving: A Christmas Collection, a September release, was her second holiday CD, which she accompanied with a TV movie, The Secret of Giving. The disc eventually went gold. So Good Together, issued in November, was her 22nd regular studio album, prefaced by the Top-Five single "What Do You Say?" Although none of the songs from the album topped the country charts, it did feature a second Top-Five hit, "I'll Be," and a Top-20 hit, "We're So Good Together," and went platinum before the end of 2000.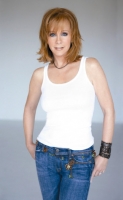 In mid-2001, she released a single, "I'm a Survivor," that peaked in the country Top Five and prefaced a new compilation, Greatest Hits Vol. 3: I'm a Survivor, released in October. It topped the country charts and went gold. She finally returned to recording after two years in the summer of 2003 with a new single, "I'm Gonna Take That Mountain," which peaked in the country Top 20. Room to Breathe, her 23rd regular studio album and first in three years, followed in November and went platinum over the next nine months. The disc's second single, "Somebody," in August 2004 became her first #1 single in more than six years as well as her most recent chart-topper; and it was followed by another Top-Ten hit, "He Gets That from Me" (#7), and the Top-20 "My Sister." In the summer of 2004, McEntire returned to the concert stage with her first tour in three years with the Reba McEntire 2004 Tour. McEntire found time in the spring of 2005 to return to the musical theater, if only for one night. In a piece of inspired casting, she portrayed the "cock-eyed optimist" from Arkansas, Ensign Nellie Forbush, in a special concert version of Rodgers and Hammerstein's South Pacific performed at Carnegie Hall. The all-star production, also featuring Broadway star Brian Stokes Mitchell and actor Alec Baldwin, was filmed for a PBS special on the network's Great Performances series and recorded for an album, both of which were released in 2006. In November 2005, McEntire released Reba #1's. Along with two new songs, the two-disc collection featured every one of McEntire's singles that had ever reached #1 on any U.S. country music chart. The total figure of 33 includes 22 that reached #1 on Billboard Hot Country Songs chart, with the remainder having topped the country charts of Radio & Records, or of the now-defunct Cash Box or Gavin Report charts.
In 2006, McEntire began a multi-week concert stint at the Las Vegas Hilton with REBA: Key to the Heart. In November 2006, McEntire was the first recipient of a star on the Music City Walk of Fame in downtown Nashville. She was honored alongside Roy Orbison, Ronnie Milsap and others. The same month, McEntire was honored by CMT as the first recipient of the CMT Giant honor. In February 2007, McEntire saw the end of her hit television sitcom, Reba, after six successful seasons. The same month McEntire and Kelly Clarkson taped a performance for an installment of CMT Crossroads that aired June 24 on CMT. On August 30, 2007, Reba received two CMA nominations for Female Vocalist of the Year and Vocal Event of the Year. With her two nominations, Reba solidifies her position as the female artist with the most nominations, 45, in the 41-year history of the CMA Awards, surpassing Dolly Parton who has 43 nomination, respectively. Duets marks the final album due in her current contract with MCA Records. The album, released on September 18, features duets with some of the biggest names in music such as Justin Timberlake, Rascal Flatts, Faith Hill, LeAnn Rimes, and Carole King. The first single was a duet with Kelly Clarkson, a remake of Clarkson's song "Because of You." The song rose quickly up the country chart and became McEntire's 30th Top-20 country single, peaking at #2 on the Billboard Hot Country Songs and is also her 50th Top-5 single. This ties her for the record with Dolly Parton among female country artists. In the summer of 2007, McEntire hit the road with the Key to the Heart Tour. For the first time in her career, the album debuted at #1 on both pop and country album charts selling more than 300,000 copies in its first week. It has been recently certified platinum. On January 17, 2008, Reba embarked on the 2 Worlds, 2 Voices Tour 2008, a co-headlining tour with Kelly Clarkson. They will also embark on a second, 24 date, leg of this tour on September 25, 2008.
---
---