---
Rascal Flatts Biography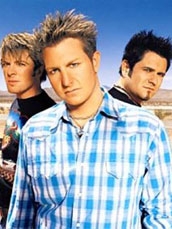 Rascal Flatts
Real name: Gary LeVox, Jay DeMarcus, and Joe Don Rooney
Rascal Flatts Biography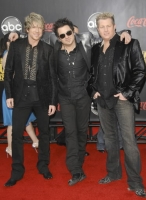 Rascal Flatts is an American Grammy Award-winning country music group founded in Nashville, Tennessee. Since its inception, Rascal Flatts has been composed of three members: Gary LeVox (lead vocals), Jay DeMarcus (bass guitar, vocals), and Joe Don Rooney (lead guitar, vocals). DeMarcus and LeVox are also second cousins. Rascal Flatts has released five studio albums and a live compilation to date, all on Lyric Street Records. Their first two albums, 2000's Rascal Flatts and 2002's Melt, have been certified 2× Multi-Platinum and 3× Multi-Platinum, respectively, in the United States, while 2004's Feels Like Today and 2006's Me and My Gang have received 5× Multi-Platinum and 4× Multi-Platinum certifications respectively. 2007's Still Feels Good, their most recent album, is certified 2× Multi-Platinum. To date, they have also released twenty-one singles on the U.S. Billboard Hot Country Songs charts; of these, eight have reached Number One. A cover of Tom Cochrane's "Life Is a Highway", from the soundtrack to the 2006 film Cars, also entered the country music charts from unsolicited airplay.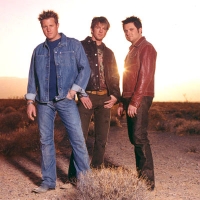 Rascal Flatts were founded near Columbus, Ohio. Gary LeVox and Jay DeMarcus were second cousins from a musical family. DeMarcus moved to Nashville in 1992, earning his first record deal as part of a Christian group called East to West. In 1997, he finally convinced LeVox to leave behind his job with the Ohio Department of Mental Retardation and follow his musical dreams as well. DeMarcus soon joined Chely Wright's band, and there he met Joe Don Rooney. DeMarcus and LeVox were working in a Printer's Alley nightclub, and when their part-time guitarist could not make it one night, DeMarcus invited Rooney to sit in. Eventually, they took the name Rascal Flatts and began performing together, getting signed to Lyric Street Records in late 1999.Carrie Underwood and Rascal Flatts performed together at the 2007 Grammy Awards ceremony.Me and My Gang had the highest US debut of 2006, with 722,000 units in April. The album spent 15 weeks as the number one album on the Billboard Country Chart and was the second-best selling album of 2006 (behind High School Musical) with sales totalling 3.5 million by year's end. The group has an uncharacteristically young demographic (18-25) for country music (where the average listener is 44 years old). In September 2007, Weekly Reader Research (Weekly Reader being a children's general-interest magazine) conducted a poll of more than 2,000 children and Rascal Flatts ranked as the sixth-most-popular act among ages 10-12.
Rascal Flatts has enjoyed financial success as touring artists. Nielsen reported that the band were the top selling artist in 2006: "Rascal Flatts was the biggest selling artist, with nearly 5 million physical album sales and nearly 4 million digital track sales." They had their first headlining tour beginning in Fall 2002, and by 2005 they were among the top 25 tours of the year, grossing $26.3 million in 777,384 tickets sold, according to Billboard Boxscore. Their follow-up tour in 2006 grossed $46.2 million, drawing more than a million people to 79 shows. Rascal Flatts has the third-highest US country tour in 2007, grossing $34 million from 588,009 tickets sold. The group grossed $16.8 million dollars from their summer tour alone. Rascal Flatts will release their first Greatest Hits CD, "Greatest Hits Volume One" on October 28th.. The album contains 16 tracks Rascal Flatts's shows are heavy on special effects, including videos, pyrotechnics and laser lights. These effects keep the concerts interesting and, most importantly, entertaining.
---