---
Lyle Lovett Biography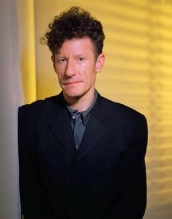 Lyle Lovett
Real name: Lyle Pearce Lovett
Lyle Lovett Biography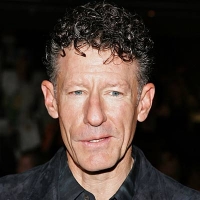 Lyle Pearce Lovett (born November 1, 1957) is an American singer-songwriter and actor. Active since 1980, he has recorded thirteen studio albums to date. His highest-peaking single to date is 1986's "Cowboy Man", a #10 hit on the country charts. He has won four Grammy Awards, including Best Male Country Vocal Performance(1990) and Best Country Album (1997). Lovett was born in the unincorporated region of Klein, Harris County (suburban Houston), Texas, the son of William and Bernell (née Klein) Lovett, a marketing executive and training specialist, respectively. He was raised as a Lutheran. Lovett attended Texas A&M University, where he studied German and journalism, and lived next door to Robert Earl Keen. Lovett signed with MCA/Curb in 1986, releasing his eponymous debut later in the year. Lyle Lovett received excellent reviews, and five of its singles -- "Farther Down the Line," the Top Ten "Cowboy Man," "God Will," "Why I Don't Know," and "Give Back My Heart" -- reached the country Top 40. Despite his strong showing on the country charts, it was clear from the outset that Lovett's musical tastes didn't rely on country, though the genre provided the foundation of his sound. Instead, he incorporated jazz, folk, and pop into a country framework, pushing the musical boundaries of each genre. Pontiac, his second album, revealed exactly how eclectic and literate Lovett was. Greeted with overwhelmingly positive reviews from both country and mainstream publications upon its 1987 release, Pontiac expanded his audience in the pop and rock markets. The album charted in the lower reaches of the pop charts and slowly worked its way toward gold status. While his pop audience grew, his country fan base began to shrink -- "She's No Lady" and "I Loved You Yesterday" both made the Top 30, but after those two songs, none of his other singles cracked the country Top 40.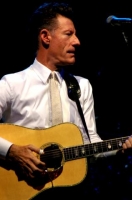 While typically associated with the country genre, Lovett's compositions often incorporate folk, swing, blues, jazz and gospel music as well as more traditional country styling. He has won four Grammy Awards, including Best Country Album (1996 for The Road to Ensenada), Best Country Duo/Group with Vocal (1994 for "Blues For Dixie" with the Texas swing group Asleep at the Wheel), Best Pop Vocal Collaboration (1994 for "Funny How Time Slips Away" with Al Green) and Best Country Male Vocal (1989) for Lyle Lovett and His Large Band). Lovett has acted in a number of films, including Robert Altman's film The Player (1992), Short Cuts (1993), Prêt-à-Porter (1994), The Opposite of Sex (1998), Cookie's Fortune (1999), and composed for Dr. T & the Women (2000). More recently, he has acted in The New Guy (2002) and Walk Hard: the Dewey Cox Story (2007). His television acting forays include Mad About You, Brothers & Sisters and Dharma & Greg. Lovett was given an Esky for Surest Thing in Esquire's 2006 Esky Music Awards in the April issue. The magazine said of Lovett: "The secret of Lyle Lovett's endurance comes down to the three C's: class, charisma and consistency... In the studio and on stage with his giant orchestra, he's spent two decades gracefully matching genuine songcraft with A-list musicianship".
Lovett's personal life was brought to the fore in 1993 when he married actress Julia Roberts. The couple had met on the set of The Player in 1992. After a three-week romance, they eloped and married in June 1993 in Marion, Indiana. The couple divorced less than two years later, in March 1995. The marriage breakup was said to be caused by their career demands causing the two to be often away from each other. They would, though, remain friends, and Roberts would even sing one of Lovett's songs in her 1998 movie Stepmom. To discover more about the relationship, devoted fans have spent long hours poring over the lyrics of Lovett's 1996 album, The Road To Ensenada. Lovett has been dating April Kimble since 1999.
---
---