---
LeAnn Rimes Biography
LeAnn Rimes Biography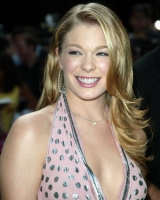 Margaret LeAnn Rimes (born August 28, 1982 in Pearl, Mississippi) is an American country music and pop singer and songwriter. Rimes's debut single, "Blue", was released when she was only 13 years old. By the age of 24 she has sold over 37 million albums. She has won anAmerican Music Award, two Grammy Awards, three Academy of Country Music Awards, and twelve Billboard Music Awards. She holds four important records in the music industry: She is the current youngest person to win a Grammy and the first country artist to win the Grammyfor Best New Artist. Her version of "How Do I Live" is currently the longest charting song on the U.S. Hot 100 at 69 weeks; this was the second multi-platinum country single ever, the first being Kenny Rogers and Dolly Parton's 1983 hit Islands in the Stream.She is often compared to other previous teen stars, like Brenda Lee and Tanya Tucker. Unlike most other child stars, Rimes has remained successful in music in adulthood, recording various kinds of music, including rhythm and blues and pop music.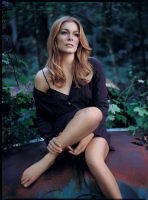 An only child, Rimes was born Margaret LeAnn Rimes in Pearl, Mississippi. LeAnn started singing before the age of two. LeAnn Rimes was only 8 years old when she appeared on Star Search in 1990. In 1991 before the age of 11, she released her first album titled Everybody's Sweetheart on a small independent label. The album's release garnered the attention of label executives and disc jockeys, including disc jockey, Bill Mack, who was fascinated by Rimes's Patsy Cline-styled voice. Mack then began to cultivate a plan to make Rimes a mainstream country music artist. Between the years of 1992 and 1994, Rimes continued to release albums under independent labels that failed to gain any success in the country music world. By then, her family had relocated to Garland, Texas. She continued honing her skills as a country artist performing on Johnnie High's Country Music Revue in Arlington, Texas, a popular show that featured local artists and national acts. Throughout 1995, Rimes's career continued to gain momentum, as she performed more than 100 concerts and appeared on television shows across Texas.In 1995, Mack arranged a recording contract for Rimes under the Nashville record label, Curb Records, and also sent out a demo release of the song "Blue", a song Mack had originally intended for legendary country-pop music singer, Patsy Cline to record. Cline's death in March 1963 stalled this plan. The DJ claimed that he had been waiting over 30 years for the right singer to record "Blue" for him. However, this story later proved to be exaggerated. The song had actually been recorded by three different artists, including Bill Mack and Kenny Roberts, who both released singles of the song under Starday Records in the 1960s. Kathryn Pitt released her version of "Blue" in her native country of Australia. Soon, Rimes was recording her newest album (also called Blue), which was released to the general public in 1996.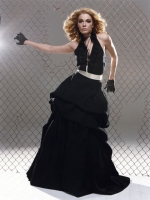 Because of the success of "Blue", Rimes became one of the youngest country music singers ever to rise to fame. At 13 years old, Rimes was a teenage country star. Rimes has been often compared to the previous teen stars to rise to fame in country music, including Brenda Lee in the 1950s, Tanya Tucker in the 1970s, as well as Marie Osmond in the early 1970s.Taylor Swift, who rose to fame in 2006 with her debut Top 10 hit, "Tim McGraw", at 16 years old, credits Rimes as one of the biggest inspirations to her career today. The year 1997, marked a year of new trials for LeAnn Rimes. Curb re-released a previous album by Rimes done on an independent label before her breakthrough in 1996, and re-named itUnchained Melody: The Early Years. The title track "Unchained Melody" reached No. 3 on the Country charts. The album hit No. 1 on both the Top Country Albums list and the Billboard 200 list. Later that year, she released her third full-length studio project, You Light Up My Life: Inspirational Songs which debuted at No. 1 simultaneously on the Billboard 200, Top Country Albums, and Christian Albums charts. In 1998, the album, Sittin' on Top of the World was released. The album was another major seller, and the album received a Platinum rating by the RIAA, Rimes's third Platinum album. The first single released from the album, "Commitment", was a Top 5 Country hit by mid-1998. She had one other Country Top 10 hit from the album, titled "Nothin' New Under the Moon".

The song "Lookin' Through You Eyes" from the same album, was a Top 20 Pop hit, but did not chart the Country list. In 2001, Curb Records released I Need You as a collection of promotional tracks and B-sides to help satisfy Rimes's recording contract obligations during litigation with the label and her management. The title track was released in mid-2000, and hit No. 11 on the Billboard Hot 100 and No. 8 on the Country charts. Her next song, "Can't Fight the Moonlight", also hit No. 11 on the Hot 100, but did not fair well with Country radio, only hitting No. 61 there. The song was a major hit on the Dance music charts, peaking at No. 17. The album I Need You was certified Gold in 2001. In 2000, she played herself in the film, Coyote Ugly. The album was re-released on March 26, 2002 with four remix bonus tracks and the song "Light the Fire Within", which LeAnn performed at the 2002 Winter Olympics opening ceremony in Salt Lake City.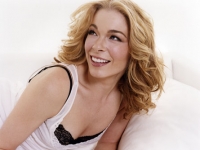 Just a few short months after her 21st birthday, Rimes released a greatest hits album, simply titled Greatest Hits, which went platinum in 2007. It featured all her hits spanning from 1996–2002, along with three new songs, "This Love", "We Can", and "Last Thing On My Mind". In 2004, the album was released internationally under the title The Best of LeAnn Rimes with a different track listing and remixes of various songs. As of this period, Rimes had not released any major country hits for some time. On January 25, 2005, Rimes made a comeback into Country music, when she released This Woman. With sales over 800,000, it was her best-selling album in over five years, receiving a Platinum rating by the RIAA. The first single released from the album in late 2004, titled "Nothin' Bout Love Makes Sense", hit the No. 5 spot on the Country charts late that year, her first major country hit in a number of years. In addition, the next single, "Probably Wouldn't Be This Way", reached No. 3 on the Country charts in 2006, and even made the Top 10 on the Adult Contemporary charts. Another single, from the album, "Something's Gotta Give", just missed the top spot on the Country charts at No. 2.
---
---