---
Kenny Chesney Biography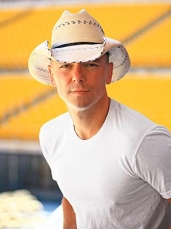 Kenny Chesney
Real name: Kenneth Arnold Chesney
Kenny Chesney Biography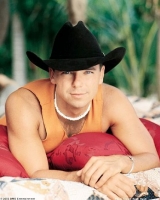 Kenneth Arnold Chesney (born March 26, 1968 in Knoxville, Tennessee) is an American country music singer-songwriter. Having made his debut on Capricorn Records in 1993, Chesney has recorded thirteen albums, eleven of which have been certified gold or higher by the RIAA. To date, he has also produced more than thirty Top Ten singles on the U.S. Billboard Hot Country Songs charts, fourteen of which reached Number One. In addition, Chesney has received six ACM (including four consecutive Entertainer of the Year Awards), as well as three CMA awards. Chesney is also one of the most popular touring acts in country music, regularly selling out the venues at which he performs;his 2007 Flip-Flop Summer Tour was the highest-grossing country road trip of 2007. He was awarded his 4th consecutive ACM Entertainer of the Year award on May 18, 2008. Kenneth Arnold Chesney was born in Knoxville, Tennessee, his mother Karen was, and still is, a hair stylist in the Knoxville area. He was raised in Luttrell, Tennessee, and attended Gibbs High School, where he was a receiver on the football team. Chesney studied at East Tennessee State University in Johnson City, Tennessee, joining Lambda Chi Alpha International Fraternity and he was a member of the ETSU Bluegrass Program. Chesney played tunes at local places around Johnson City like Chucky's Trading Post (a small Mexican restaurant), Quarterbacks BBQ, and Rafters. He recorded his first album in 1989 at Classic Recording Studio in Bristol, Virginia. A thousand copies were made and Chesney sold them at his busking gigs, using the money from album sales to help buy a new guitar. In 1990, Chesney graduated from East Tennessee State University with a degree in advertising. After graduation, he headed to Nashville, where he performed at several local clubs. After making the rounds of the music publishers in Nashville, Chesney signed to contract in 1992 with BMI and Opryland Music Group.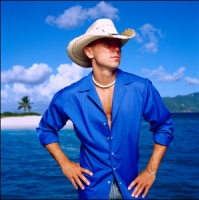 Kenny's first album, In My Wildest Dreams , was released on the independent Capricorn Records label in 1994. The album's lead-off singles, "The Tin Man" and "Whatever It Takes", both reached the lower regions of the Billboard Hot Country Singles & Tracks charts. The album sold approximately 10,000 copies before Capricorn Records closed its country music division that year.[1] Shortly afterward, Chesney signed to BNA Records, which released his album All I Need to Know in 1995. The album produced three hit singles: "Fall in Love" and the title track, both of which reached Top Ten, and "Grandpa Told Me So", which peaked at #23. "The Tin Man" was also included on this album, although it was not re-released as a single at the time. 1996 saw the release of Me and You, Chesney's second major-label album. Although its lead-off single peaked just outside the Top 40 on the country charts, the album's title track (reprised from All I Need to Know) and the single "When I Close My Eyes" both peaked at #2 on the Billboard country charts, the latter also reaching Number One on the country charts of Radio & Records. Me And You was also Chesney's first gold-certified album. A cover of singer-songwriter Mac McAnally's 1990 single "Back Where I Come From" was also included on this album; although Chesney's version was never released as a single, it has become a staple of his concerts.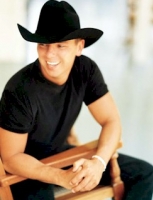 I Will Stand, Chesney's third album for Lucy and Cameron, was released in 1997. "She's Got It All", which served as the album's lead-off single, became Chesney's first Billboard Number One single, spending three weeks at the top of the country charts. The album's second single, "A Chance", peaked just shy of Top Ten, while its follow-up, "That's Why I'm Here", went to #2 on Billboard in 1998. ("That's Why I'm Here" reached Number One on Radio & Records, giving Chesney his third Number One overall.) Also in 1998, Chesney recorded a limited-edition single titled "Touchdown Tennessee". By 2000, Chesney released his Greatest Hits compilation. It included four new tracks, as well as re-recordings of "Fall in Love", "The Tin Man" and "Back Where I Come From". The new version of "The Tin Man" was one of the disc's three singles, with two of the new tracks -- "I Lost It" and "Don't Happen Twice" -- also serving as singles. The album No Shoes, No Shirt, No Problems was released in 2002. Its lead-off single, "Young", peaked at #2, while the follow-up "The Good Stuff" spent seven weeks at Number One, becoming Billboard's Number One country song of the year for 2002. A year later, Chesney recorded an album of Christmas music, titled All I Want for Christmas Is a Real Good Tan; the album's title track peaked at #30 on the country charts from holiday airplay. 2004 saw the release of Chesney's album When the Sun Goes Down. Its lead-off single, "There Goes My Life", spent seven weeks at the top of the Billboard country charts; the album's title track, a duet with Uncle Kracker, was also a Number One. At the Country Music Association awards that year, When the Sun Goes Down won an award for Album of the Year. In January 2005, Chesney released the album Be as You Are (Songs from an Old Blue Chair), supporting the album with his Somewhere in the Sun Tour and in November 2005. The album was a lower key affair sonically than most of Chesney's recent albums.[citation needed] Chesney released his second album of that year, The Road and the Radio, which produced three Number One singles: "Living in Fast Forward", "Summertime", and "Beer In Mexico", as well as Top Five hits in "Who You'd Be Today" and "You Save Me".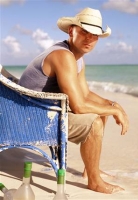 In February 2006, Chesney was presented with a plaque commemorating his sales of 25 million albums. On May 23 of the same year, Chesney was honored at the Academy of Country Music Awards as Entertainer of the Year. In 2007 he was once again named Entertainer of the Year. On November 7, 2007 Cheseny was named the CMA Entertainer of the Year for the third time in four years. On September 11, 2007, Kenny released the album Just Who I Am: Poets & Pirates. The album's lead-off single, "Never Wanted Nothing More", became Chesney's twelfth Number One on the Billboard country charts. However, there was some controversy surrounding the release of this album, as Kanye West's album Graduation, as well as 50 Cent's album Curtis, were released on the same day. Kanye West and 50 Cent were in the midst of a competitive sales war, with 50 Cent claiming he'd end his solo rap career if West sold more albums than he did (remarks he later retracted as terms with his contract conflicted with the promise). Kenny Chesney, however, decided he'd give country music a place in the competition, claiming country artists were just as popular as rap artists. Chesney came in third place in number of record sales.
---
---