---
Kellie Pickler Biography
Kellie Pickler Biography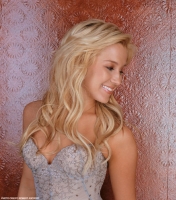 Pickler was born at Stanly Memorial Hospital in Albemarle, North Carolina, to Cynthia Morton and Clyde "Bo" Pickler, Jr. Her mother was 18 years old when she gave birth to her, and relinquished custodial rights to Pickler when she was two years old.

The major influences in her life are her grandfather, Clyde Pickler, Sr., who worked as an electrician and grandmother, Faye Pickler. She was raised in Palestine, a small town near Albemarle. After her grandmother's death, she continued to reside with her grandfather and her younger sibling Eric until she became a contestant on Idol. Kellie graduated in 2004 from North Stanly High School in New London, North Carolina. She used to be a cheerleader and dancer. At her graduation commencement, she sang "On the Side of Angels" by LeAnn Rimes.

She has worked as a waitress at a Sonic Drive In franchise, and in 2005, she made an appearance on WSOC-TV's Gimme the Mike! Charlotte contest. She finished in second place. She participated in the Miss America circuit, and won the "Miss Stanly County" pageant at age 17 and subsequently competed for Miss North Carolina 2004. She dropped out and later tried paralegal studies.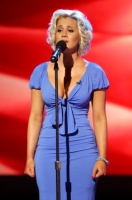 The 19-year-old Pickler auditioned for American Idol in the fall of 2005 in Greensboro, North Carolina. She sang both Kelly Clarkson's "Since U Been Gone" and Martina McBride's "A Broken Wing". The judges sent her to Hollywood. Pickler advanced through the semi-finalist rounds in February. On March 9, she reached the Top 12.

Pickler was among one of judge Simon Cowell's favorites. He once predicted Pickler would be in the final three, and said he preferred her over the previous season's winner, Carrie Underwood. Recognized for her "quirky" personality and Southern charm, Pickler gained attention on the show by saying (for example) that she had hardly ever performed before real audiences, and mispronounced words. She was compared to Jessica Simpson in a March 27 story in US Weekly magazine entitled "Kellie: The Next Jessica Simpson", due to her "sweet Southern style and ditzy demeanor". After her elimination, she appeared in numerous shows promoting the TV show and performed the song "Walkin' After Midnight" in some of her appearances.

On May 6, 2006, she returned to Albemarle, North Carolina for a parade and a reunion with her father. She received a key to the city from the mayor of Albemarle. The mayor also proclaimed the day as "Kellie Pickler Day." Pickler also received numerous awards from local and statewide government officials praising her accomplishments as a contestant on the American Idol television show.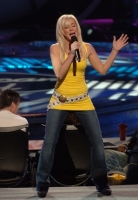 Pickler pursued her recording aspirations in Nashville, Tennessee shortly thereafter. On July 17, 2006 she signed a record deal with 19 Recordings/BNA Records. She later announced it herself on The View. She was part of the American Idol Pop Tarts tour ensemble, performing for three months in various cities. During that period, Pickler worked on her album in collaboration with top industry experts in different cities wherever the tour took her.

Her first single, "Red High Heels", debuted on September 13, 2006 and its music video was officially released on October 20, 2006. It reached #1 on the GAC Top 20 Countdown on February 9th and received a nomination for the CMT Video Awards for "Best Breakthrough Artist Video". Her debut album, Small Town Girl, released on October 31, 2006 topped Billboard's Top Country Albums and landed at #9 on Billboard Top 200 selling over 79,000 copies in its first week. Its sales made her the best selling new country solo artist of 2006. The album includes five songs that Pickler co-wrote with songwriters Chris Lindsey, Aimee Mayo and Karyn Rochelle.

On January 18th, 2007, Pickler co-hosted The View and was presented with a gold record by Rosie O'Donnell, certifying that her album has gone gold. She also performed her second single "I Wonder", which is a personal song about her absent relationship with her mother, Cynthia Morton. It was the first performance of the song on national TV. Pickler was nominated for "Top New Female Vocalist" for the 42nd Academy of Country Music Awards.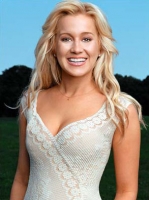 She was also part of Brad Paisley's "Bonfires & Amplifiers" concert tour from April 2007 through October as one of the opening acts. The tour was booked in at least 37 cities in the U.S. including a couple of stops in Canada.

On September 2007, Pickler released a version of "Santa Baby" for a Christmas country compilation. It reached #6 on iTunes Holiday Songs and #49 on Billboard Hot Country Songs. On October 15, at the ASCAP Awards in Nashville, Pickler received a songwriter award for "Red High Heels".

On November 7, she performed her second single "I Wonder" at the 2007 CMA Awards. The performance received a standing ovation. She was also nominated for the Horizon Award.

Pickler appeared on Jeff Foxworthy's show, Are You Smarter Than a Fifth Grader?. She was asked, "Budapest is the capital of what European country?" She replied, "This might be a stupid question, but I thought Europe was a country". She thought it might be France, and then was confused if France really was a country or not. When told the answer was Hungary, she did not believe the host. She said, "Hungry [sic]? That's a country? I've heard of Turkey, but Hungry? I've never heard of it." The video has become an instant YouTube hit. Pickler was also perplexed when asked whether the piccolo belongs to the woodwind, strings, or percussion musical family. In trying to reason out the answer to the question, she noted that "percussion starts with a p" and accordingly decided, "I'm just going to keep the p's together, and I'm just going to say percussion." ("Woodwind" was the correct answer.)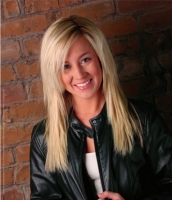 Following the release of the third single (Things That Never Cross a Man's Mind) from her debut album, Kellie returned to the studio to work on her sophomore album. On May 8, 2008, her official wesbite announced that she would sing the first single from the new album, "Don't You Know You're Beautiful" at the Academy of Country Music Awards on May 18, 2008. Kellie has since stated: "I'm so excited to be performing on the show and doubly so, to be debuting the new single. It's such a great song, with a positive message and it's different than any other song I've recorded before." According to her website, the new single will debut on country music radio stations in June.

Her second album, self-titled Kellie Pickler, will be released on September 30, 2008.
---
---