---
Julianne Hough Biography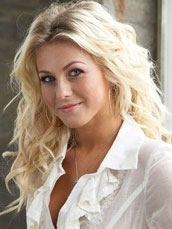 Julianne Hough
Real name: Julianne Marie Hough
Julianne Hough Biography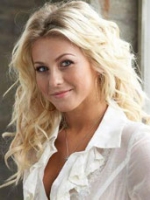 Julianne Hough (born July 20, 1988) is an American Emmy Nominated professional ballroom dancer and country music singer. The television newsmagazine 20/20 describes her as one of the "very best dancers on the planet." She has won several international titles, and is the youngest professional dancer ever to have competed on the televised competition Dancing with the Stars. She won the overall title in her first year on the show, as she coached her amateur dance partner, Olympic speed skater Apolo Anton Ohno, to win the competition. She defended her championship on Dancing with the Stars in its very next season, this time paired with Indianapolis 500 champion Hélio Castroneves, matching the back-to-back wins of fellow professional dancer Cheryl Burke. Hough appeared on the sixth season of Dancing With the Stars with actor/comedian Adam Carolla.

Hough was signed to Mercury Nashville Records as a recording artist. She has released her debut Mercury single "That Song in My Head" to country radio, and her self-titled debut album was released May 20, 2008. It debuted at #1 on the Billboard Country Album chart and #3 on the Billboard Hot 200 albums. According to Billboard Magazine, it was the largest debut by a new artist in country music since 2006.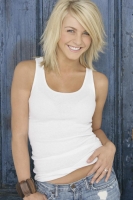 Hough grew up one of five children from an LDS (Mormon) family in Salt Lake City. All four of her grandparents were dancers, and her parents met while on a ballroom dancing team in college at Idaho. Though she has danced since the age of three, she never partnered in competition with her brother Derek, who is three years older than she. The siblings did dance together for exhibition on DWTS and the DWTS tour. Her formal training began at the Center Stage Performing Arts Studio in Orem, Utah, where she danced with Justin Murillo, among others, in Latin Ballroom; she began dancing competitively at nine. Her parents sent her and her brother to London a year later to spare them the strife of divorce and to live and study with their coaches, the world Latin Dance Champions Corky and Shirley Ballas. The Ballases helped tutor the two Hough children alongside their own son, Mark, while schooling them at the Italia Conti Performing Arts School. They received training in virtually every form of dance, from gymnastics to jazz, and ballet to tap. The three children formed their own pop music trio 2B1G ("2 Boys, 1 Girl") when Julianne was twelve, performed at Dance Competitions in the U.K. and the U.S., and showcased a UK television show.

Hough's education in London with the Ballas family included training in song, dance, and theatre at Britain's oldest performing arts training school, the Italia Conti Academy. At fifteen, Julianne Hough became the youngest dancer, and only American, to win both the prestigious titles of Junior Blackpool World Latin Champion and International Latin Youth Champion.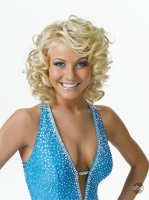 After five years in London, Hough wanted a "normal" school experience and to pursue her desire to be a professional singer, and returned to Utah to live with her family, but not before taking a year to live in Las Vegas and go to the performing arts high school, Las Vegas Academy. After graduating from Alta High, she moved on her own to Los Angeles to build her singing, songwriting, acting and dancing career. She was an assistant choreographer on Gwen Stefani's "Wind It Up" music video.

Hough began working almost immediately upon arriving in Los Angeles. She was featured in two television commercials and was a "dancing" extra in an episode of Cold Case. She was one of the "Million Dollar Dancers" in the short lived network television game show Show Me the Money starring William Shatner.

Hough appeared in the fourth season of Dancing with the Stars, a televised ballroom dance competition. In her first season, she won with her partner, Olympic gold medal-winning speed skater Apolo Anton Ohno, making Hough the youngest professional dancer both to compete, and to win, on the program. She is also the third professional, after Alec Mazo and Cheryl Burke, to win a Dancing with the Stars championship in one's first season with the show. On November 27, 2007, Hough and her partner, two-time Indianapolis 500 champion Hélio Castroneves, became the winners of Season 5. She is the second professional dancer to win two consecutive seasons of Dancing with the Stars. Hough returned for season 6 with actor/radio host/comedian Adam Carolla. They were eliminated on Tuesday, April, 8, 2008.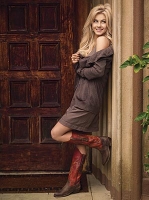 She has also made guest appearances on other shows such as The Oprah Winfrey Show, Jimmy Kimmel Live, The View, Ellen, and Good Morning America. She participated in the taping of the 2007 Walt Disney World Christmas Day Parade inside the Magic Kingdom at Disney World in Orlando, Florida.

Hough released her first country music single "Will You Dance With Me" to iTunes and Wal-Mart in May 2007 to raise money for the American Red Cross. The song peaked at #100 on the Billboard Pop 100 chart. She later signed with Mercury Nashville Records, a division of the Universal Music Group.

Her self-titled debut album was recorded in Nashville and produced by David Malloy, who has worked with Reba McEntire, Eddie Rabbitt, and others. Hough's second single, and the first to be released to country radio, "That Song in My Head" debuted on the Country charts in March and is currently an active single. Hough's self-titled album debuted at #1 on the Top Country Albums chart on May 31, and also peaked at #4 on the Billboard 200. Hough will tour with Brad Paisley starting June 11, 2008 on Paisley's 2008 Tour, along with Jewel and Chuck Wicks.Hough, Paisley and Willie Nelson all appear in the video for the Snoop Dogg song "My Medicine." She has been the subject of rumors that she was romantically linked with Apolo Anton Ohno. Hough also denied rumors she is dating her Season 5 Dancing With the Stars partner, Hélio Castroneves.

She has been romantically linked with Kevin Connolly of Entourage fame. In 2007 he who her a diamond ring and said that he was "actively pursuing" Hough, although Hough denied a romantic relationship.

In an interview with CosmoGirl magazine, she shared her views about abstinence from sex until marriage: "Yes, I want to be with that special person. I think the decision to have sex before marriage is an individual one, but if you're just with one person, it's only for one good reason, and [waiting to have sex] will strengthen the relationship."
---
---