---
I See Hawks in L.A. Artist Profile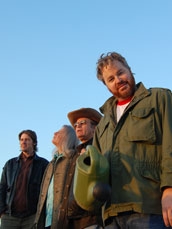 I See Hawks in L.A.
Real name: Rob Waller, Paul Lacques, Paul Marshall, Dave Zirbel, Cody Bryant, Rick Shea, Brantley Kearns, Shawn Norse
Label(s): Western Seeds
Place of birth: Los Angeles, CA, US
Website: www.iseehawks.com
I See Hawks in L.A. Biography
California-based I See Hawks in L.A. pursue a kind of cerebral, witty, and at times refreshingly silly alt-country path along the lines of earlier California country-rock bands like the Flying Burrito Brothers, Poco, and the Byrds, following the template of what Gram Parsons once called "cosmic American music." Formed in 1999 byRobert Rex Waller, Jr. and brothers Paul Lacques and...
I See Hawks in L.A. Discography

Label: Big Book
Release Date: May 20, 2008
View details | Buy now:



Label: Western Seeds
Release Date: May 9, 2006
View details | Buy now:



Label: Western Seeds
Release Date: August 3, 2004
View details | Buy now:



Label: Ethic
Release Date: September 11, 2001
View details | Buy now:


---
---