---
Dierks Bentley Biography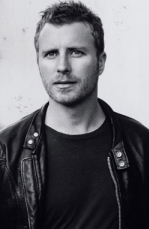 Dierks Bentley Biography

Dierks Bentley is an American country music singer-songwriter. After years of playing various local venues, Dierks was discovered and signed to Capitol Records in 2003. That year, he debuted with the single "What Was I Thinkin'", which reached Number One on the U.S. Billboard Hot Country Singles & Tracks (now Hot Country Songs) charts. The single was included on his self-titled debut album, also released in 2003; both it and its follow-up, 2005's Modern Day Drifter, were certified platinum in the United States. Counting "What Was I Thinkin'", Dierks has charted ten singles to date on the U.S. country singles charts, of which five have reached Number One. He has also recorded four studio albums to date -- one early, independent work, as well as his three studio albums on Capitol Records. Bentley's most recent album, Long Trip Alone, was released in late 2006 and has been certified gold.
In teenage years, he moved to Lawrenceville, New Jersey, where he attended the Lawrenceville School, graduating in 1993. He was also a member of the Sigma Alpha Epsilon Fraternity at Vanderbilt University. At the age of seventeen, Dierks was introduced to country music by a friend, who played Hank Williams Jr.'s "Man to Man" for him.

Bentley worked at The Nashville Network (now Spike TV), researching old footage of country performances. In 2003, Capitol Nashville released Bentley's self-titled debut album. The album's first single, "What Was I Thinkin'", reached Number One on the Billboard Hot Country Singles & Tracks charts later that year. In 2005, Dierks won the CMA Horizon Award and was invited to join the Grand Ole Opry. His Opry induction took place Oct. 1, 2005; he now stands as the third youngest (Carrie Underwood and Josh Turner being the youngest) current member. On June 10, 2006, Bentley filmed his DVD release Live And Loud at the Fillmore in Denver, Colorado. It was released March 20, 2007. Long Trip Alone, Dierks' third album, was released in late 2006. To date, it has produced two Number One singles: "Every Mile a Memory" (2006) and "Free and Easy (Down the Road I Go)" (2007).In a March 2008 interview, Dierks said he's decided to let his fans be the executive producers of his Greatest Hits album, Greatest Hits/Every Mile a Memory 2003-2008, released on May 6.
Bentley is married to Cassidy Black, who also has Phoenix roots and whom he has known since high school. They live in Nashville, Tennessee with their dogs Jake (who has appeared in a few of Dierks' videos) and George. The couple is expecting their first child, due in the fall of 2008.

---
---