---
Darius Rucker Biography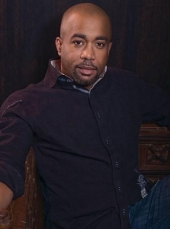 Darius Rucker Biography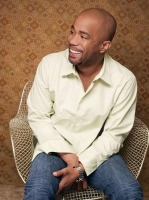 Darius Rucker (born May 13, 1966 in Charleston, South Carolina) is the lead singer and rhythm guitarist of the American rock band Hootie & the Blowfish, of which he has been a member since the band's inception in 1989.
Along with his work in Hootie & the Blowfish, Rucker recorded one studio album, entitled Back to Then, on Hidden Beach Recordings in 2002. In 2008, he signed to Capitol Nashville and charted his first solo single, "Don't Think I Don't Think About It", the first single from his first country album Learn to Live.
Rucker has been a member of Hootie & the Blowfish since their original formation in 1989. He met fellow band members, Mark Bryan, Jim "Soni" Sonefeld, and Dean Felber, while attending the University of South Carolina. In 2001, he made his solo R&B debut album The Return of Mongo Slade for Atlantic Records. Because of contractual changes, it was never released by the label. Hidden Beach Recordings, an independent label, acquired the masters from Atlantic, releasing the album as Back to Then in July 2002. In early 2008, Rucker signed to Capitol Records Nashville as the beginning of a career in country music. His first country single, "Don't Think I Don't Think About It" (which he co-wrote with Clay Mills) debuted at #51 on Billboard's Hot Country Songs charts for the week of May 3, 2008, and it will serve as the lead-off single to an upcoming album for Capitol, Learn to Live. Rucker also made his Grand Ole Opry debut in July 2008. "Don't Think I Don't Think About It" has reached Top 20 on the country charts, making him the first African-American singer to reach Top 20 on the country charts since Charley Pride in 1988.
---
---