---
Brad Paisley Biography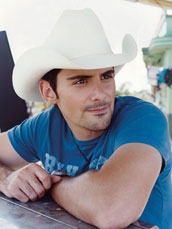 Brad Paisley
Real name: Brad Douglas Paisley
Brad Paisley Biography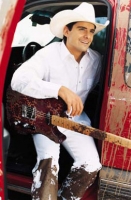 Brad Paisley is a Grammy Award-winning American country music singer-songwriter and guitarist. Starting with the release of his 1999 album Who Needs Pictures, Brad has recorded five studio albums and a Christmas compilation on the Arista Nashville label, with all of his albums certified gold or higher by the RIAA. In addition, he has charted twenty-one singles on the U.S. Billboard Hot Country Songs charts, eleven of which have reached Number One. His style crosses between traditional country and pop-rock, frequently lacing his songs with humor and pop culture references.

Paisley has stated that his love of country music stems from his maternal grandfather, Warren Jarvis, who gave Paisley his first guitar at age eight and taught him how to play. At age twelve Paisley wrote his first song, and by age thirteen, he was an opening act for country singers such as The Judds, Ricky Skaggs, and George Jones at the Capital Music Hall in Wheeling, West Virginia.

Paisley graduated from John Marshall High School in Glen Dale, West Virginia , studied briefly at West Liberty State College (WV), and later was awarded a full-paid ASCAP scholarship to Belmont University in Nashville, Tennessee (from 1993 to 1995). While in college, he met Frank Rogers, a fellow student who went on to serve as his producer. Paisley also met Kelley Lovelace, who became his songwriting partner.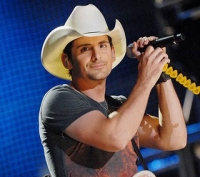 After graduating from Belmont, Paisley signed a songwriting contract with EMI Music Publishing and he wrote David Kersh's top 5 hit, "Another You", as well as cuts by Tracy Byrd and David Ball. His debut as a singer was with the label Arista Nashville, with the song "Who Needs Pictures" (released February 22, 1999). In May of that same year, he made his first appearance on the Grand Ole Opry. Seven months later he had his first #1 hit with "He Didn't Have to Be," which detailed the story of Lovelace and Lovelace's stepson.

In 2000, Paisley was exposed to his first national non-country music oriented audience when producer, Todd Baker, tapped him to appear on the TLC special, "Route 66: Main Street America." This show featured Paisley and band doing rare live and acoustic versions of Route 66. The international and home video versions of this program end with a full, un-cut acoustic rendition of the piece, which was performed live on Rainbow Bridge in Riverton, KS.

Later in 2000, Paisley won the Country Music Association's (CMA) Horizon Award and the Academy of Country Music's best new male vocalist trophy. He received his first Grammy Award nomination a year later for Best New Artist. On February 17, 2001, Paisley was inducted into the Grand Ole Opry.

In 2002, he won the CMA Music Video of the Year for "I'm Gonna Miss Her (The Fishin' Song)." Several celebrities made notable guest appearances in the video, including Little Jimmy Dickens, Kimberly Williams, Dan Patrick, and Jerry Springer. His three other singles off the Part II album, "I Wish You'd Stay", "Wrapped Around", and "Two People Fell in Love", all charted in the top 10.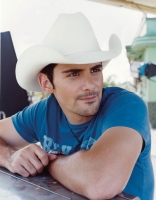 Paisley released his third album, Mud on the Tires (2003), following Who Needs Pictures and Part II. The album features the hit song "Celebrity," the video of which parodies reality shows such as Fear Factor and American Idol and included such celebrities as Jason Alexander, Jim Belushi, Little Jimmy Dickens, Trista Rehn, and William Shatner. (Paisley later contributed to Shatner's album Has Been.) The album's title track, "Mud on the Tires," reached Billboard #1 in 2004.

In 2005, after touring with Reba McEntire and Terri Clark on the critically acclaimed "Two Hats and a Redhead Tour," he released Time Well Wasted, containing 15 tracks. This album includes "Alcohol," two duets — "When I Get Where I'm Going" with Dolly Parton and "Out in the Parking Lot" with Alan Jackson — and a bonus track, "Cornography." On November 6, 2006, the album "Time Well Wasted" won the Country Music Association CMA Award for Best Album. "Time Well Wasted" also won album of the year at the 2006 ACM Awards.

Paisley also contributed two original songs to the Disney film Cars. These can be found on the film's soundtrack. This was in recognition of his contribution to the "Route 66: Main Street America" television special. At the 2006 Grammy Awards, Paisley received four nominations: Best Country Album (for Time Well Wasted), Best Country Song (for "Alcohol"), Best Country Instrumental (for "Time Warp") and Best Country Vocal, Male (for "Alcohol").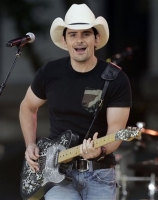 Paisley's newest album, 5th Gear, was released in the United States on June 19, 2007. "Ticks" was the first single from the album, and quickly rose to #1 on the country music singles charts. The second single from the album, "Online," hit #1. The song contains the Brentwood High School marching band playing at the end of the song. The third single "Letter to Me" was another number one hit. The fourth single from the album is "I'm Still a Guy" which has also reached #1 making seven straight number one hits." The fifth single released in June 2008 comes from a re-issue of 5th Gear was released, featuring a slightly different re-recording of "Waitin' on a Woman", an album cut from Time Well Wasted, that received unsolicited airplay in late 2006. The earlier album cut has more prominent string guitar and violin parts, whereas the re-released version has lesser prominent versions for both of these, as well as a more "muted" musical tone.

As of February 24, 2008, Brad Paisley officially wrapped up the 2007 Bonfires & Amplifiers Tour. The tour visited 94 cities over a 10 month period and played for over 1,000,000 fans. Bonfires & Amplifiers 2007's first show was April 26, 2007 and the tour was so successful early-on that a third leg was added extending it through February 2008. Taylor Swift, Kellie Pickler, Jack Ingram, Rodney Atkins and Chuck Wicks have all been show openers throughout the tour.

He has been nominated for three 2008 Grammy Awards: Best Country Album (for 5th Gear), Best Country Collaboration (for "Oh Love" with Carrie Underwood), and Best Country Instrumental (for "Throttleneck"). On February 10, 2008, he won his first Grammy award for Best Country Instrumental for "Throttleneck".

In March 2008, Brad Paisley announced his next tour, "The Paisley Party," a 42-date tour sponsored by Hershey's. The tour kicks off on June 11, 2008, in Albuquerque, New Mexico with Chuck Wicks, Julianne Hough and Jewel as the opening acts. Paisley is currently working on his seventh album, an instrumental album titled Play. A greatest hits album is also in the works.
---
---