---
Bellamy Brothers Biography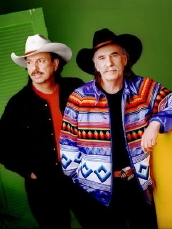 Bellamy Brothers
Real name: David Milton Bellamy, Homer Howard Bellamy
Artist name(s): David Bellamy, Howard Bellamy
Bellamy Brothers Biography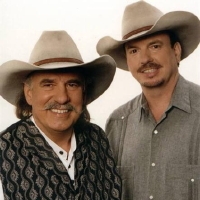 The Bellamy Brothers are an American country music duo composed of brothers David Milton Bellamy (born September 16, 1950) and Homer Howard Bellamy (born February 2, 1946), both from Darby, Florida, United States. The duo had considerable musical success in the 1970s and 1980s, starting with the release of their crossover hit "Let Your Love Flow" in 1976, a Number One single on the Billboard Hot 100. Starting in the late 1970s, the Bellamy Brothers found success in country music as well, charting twenty Number One singles and more than fifty hits overall on the country charts. To date, they have released more than forty albums, primarily on Curb Records. David and Howard Bellamy were inspired by many musical sources from an early age. Their father played country music around the house, and was also a member of a local Western swing band; in addition, they were inspired by the rock & roll music their sister played, as well as the calypso music sung by Jamaican harvesters working in the family orange groves. Despite having never had formal music training, both brothers learned how to play guitar, mandolin, and banjo. In addition, David learned accordion, fiddle, organ, and piano. Later on, both brothers attended University of Florida; David majored in psychology, while Howard majored in veterinary medicine. Their first musical gig was in 1968, as they played a benefit concert with their father in San Antonio, Florida at the Rattlesnake Roundup. The same year, the brothers moved to Atlanta, Georgia and formed a band called Jericho. However, playing in bands and clubs proved tiresome for the brothers, who soon moved back home.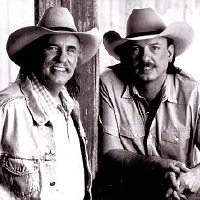 The brothers were soon noticed by a friend of recording artist Jim Stafford, who eventually recorded "Spiders and Snakes", a tune written by David. "Spiders and Snakes" went on to become a Top 5 hit, providing the Bellamys with the money to move to Los Angeles, California. Howard became a road manager for Stafford; Stafford's previous road manager, Leo Gallagher, later gained fame as a comedian. The duo signed to Curb Records in 1975. A single featuring only David, "Nothin' Heavy", was unsuccessful. However, Dennis St. John (who was Neil Diamond's drummer at the time) suggested "Let Your Love Flow", which one of Diamond's roadies had written. Released in 1976, "Let Your Love Flow" was a No. 1 single on the United States pop charts, as well as the pop charts of Great Britain, Germany, and Scandinavia. Although "Let Your Love Flow" was also a hit on the Hot Country Singles & Tracks chart, the Bellamys' country music success was limited until 1979, when "If I Said You Had a Beautiful Body Would You Hold It Against Me" was released. The song, whose double entendre title was derived from a Groucho Marx quote, was first a hit in Northern Ireland before landing the Bellamys their first country music No. 1 in the United States. After that song's success came many more country hits, including novelty tunes, such as "Redneck Girl"; serious ballads, such as "Santa Fe", and social commentary pieces, such as "Old Hippie" and "Kids of the Baby Boom".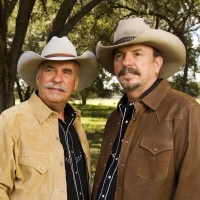 Billboard named the Bellamy Brothers as Top Country Duo; in addition, the duo eventually went on to set the record for most duo nominations from both Academy of Country Music and Country Music Association, despite having never won either duo nomination. Their success soon waned, however, and the Bellamys switched to Atlantic Records in 1991. Their tenure with that label produced only one album before the duo formed its own label. Although they were still recording albums, their singles were no longer charting, and by 1999 they had switched to Blue Hat Records for their Lonely Planet album. In 1998, David's son, Noah, formed his own group called Burning Sky, which has found success in the state of Texas. In 2005, the Bellamys returned to Curb Records to record Angels & Outlaws, Volume 1, a compilation album featuring re-recordings of the duo's older hits with additional artists, including Dolly Parton, George Jones, Alan Jackson, Tanya Tucker, and Montgomery Gentry. A re-recorded version of "If I Said You Had a Beautiful Body Would You Hold It Against Me", featuring Dolly Parton, spent one week at #60 on the Billboard Hot Country Songs chart in 2005. A year later, California gubernatorial candidate Phil Angelides used a recording of "Let Your Love Flow" by The Spokesmen in television commercials for his campaign; in response, the Bellamys offered to perform the song for Angelides' opponent, Arnold Schwarzenegger. The Bellamys had previously performed the song at multiple rallies for George W. Bush. The Bellamys' most recent project is an album of gospel music, titled Jesus Is Coming, released on May 8, 2007.
---
---