---
Alabama Biography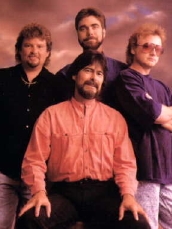 Alabama
Artist name(s): Jeff Cook, Mark Herndon, Randy Owen, Teddy Gentry
Alabama Biography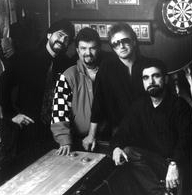 Alabama is a Grammy Award-winning country music band that originated in Fort Payne, Alabama, United States. They were the most commercially successful country act in the 1980s and remain one of the bestselling American musical acts of all time. The band is often credited with bringing country music groups (as opposed to solo vocalists) into the mainstream, paving the way for the success of today's top country groups. The band's blend of traditional country music and southern rock combined with elements of gospel music, and pop music gave it a crossover appeal that helped lead to their unprecedented success. They also toured extensively and incorporated production elements such as lighting and "sets" inspired by rock concerts into their shows. The band has over 30 number one country records on the Billboard Magazine charts to their credit and have sold over 73 million records to date. The band was started in 1969 by cousins Owen, Gentry, and Cook as Young Country. Their first gig was playing for a high school talent contest, and they won first prize, a trip to the Grand Ole Opry. After a hiatus for Owen and Cook to attend college, the band reconvened in Anniston, Alabama in 1972 as Wildcountry. In 1973 they made the decision to become professional musicians, quitting their day jobs and playing in various clubs across the Southeast. Most famously, they performed at the Myrtle Beach, South Carolina nightspot The Bowery.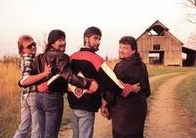 The band went through five drummers in the next four years. The first, a drumming genius by the name of Mike Micheal, who after playing for about two years in the band stopped playing (consenting to his fathers wishes) only months before the band made it big. Michael now has played in many bands since then and still remains friends with fellow members of the band. In 1977 the others changed their name to Alabama, and signed a one-album recording contract with GRT. Their single, "I Wanna Be With You Tonight", broke the Top 80. GRT declared bankruptcy a year later, and the band was surprised to find that a clause in their contracts forbade them from recording with another label. It took over a year to raise the money to buy out their contract, but in 1979 they were free to record again. However, once again, the band's drummer had quit. Owen, Gentry, and Cook hired Mark Herndon, a former drummer for a rock band, to join the group. These four musicians remained the core of the band for the rest of their career. In 1979, the band self-recorded an album and hired a promoter to help get radio airplay for their single, "I Wanna Come Over". MDJ Records, a small label based in Dallas, Texas agreed to release the single, which peaked at No. 33 on Billboard's country chart. The follow-up, their signature song, "My Home's in Alabama," reached the Top 20 in March 1980; both songs are on their first album, My Home's in Alabama. The band was noticed by RCA Records and with the marketing and distribution power of their new label behind them, Alabama soon shot to the top of the country record charts.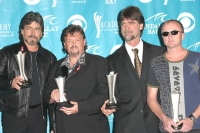 Alabama was so dominant in the early- and mid-1980s that 21 of their single releases reached No. 1 on Billboard's country singles chart. This streak also included a holiday single called "Christmas in Dixie", which reached the lower regions of the Top 40. However, non-No. 1 Christmas singles are usually disregarded in determining chart-topping streaks, so Alabama is frequently cited as having had the longest streak of consecutive No. 1 singles (The streak also disregards Lionel Richie's 1987 single, "Deep River Woman", which featured harmony vocals from Alabama and peaked at No. 10). The No. 1 hits continued through April 1987, when "(You've Got) 'The Touch'" became their 21st chart-topper. After "Tar Top" peaked at No. 7 in the fall of 1987, Alabama started a new No. 1 string of six straight, and went on to have five more No. 1 hits through 1993's "Reckless". Those songs that went the distance on other charts, but not Billboard (although all were top five hits on the Billboard chart), are "Here We Are" and "Then Again" (1991); "Born Country" and "Take A Little Trip" (1992); "Once Upon a Lifetime" (1993); "Give Me One More Shot," "She Ain't Your Ordinary Girl" and "In Pictures" (1995); "Sad Lookin' Moon" (1997); and "How Do You Fall In Love" (1998). The band also recorded an original song for the 1985 children's film Sesame Street Presents: Follow that Bird called "All Together Now". While the song is only heard briefly in the film (on a car radio), it is available on the film's soundtrack. In May 2002, the band announced its "Farewell Tour", which took place across the USA during 2003 and 2004. They are now retired from touring, but released two albums of inspirational music in 2006 and 2007.
---
---