---
Trisha Yearwood Biography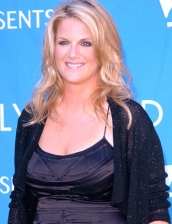 Trisha Yearwood
Real name: Patricia Lynn Yearwood
Trisha Yearwood Biography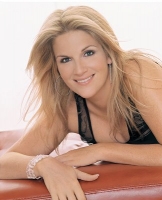 Patricia Lynn Yearwood, known professionally as Trisha Yearwood (born September 19, 1964) is an American country music singer, best known for her series of major hits throughout the 1990s decade and into the new millennium. She is a three-time Grammy award-winner, a two-time Country Music Association Awards-winner and a two-time Academy of Country Music Awards-winner. Yearwood made her debut in 1991 with the #1 hit single, "She's in Love with the Boy". Her debut album was certified by the RIAA of selling over two million copies, making Yearwood the first female Country singer to have a debut album to be certified Platinum. Since 1991, Yearwood has released a total of ten studio albums and four compilation albums, including a Holiday album. Of all these albums, four of which have been certified Platinum and five have been certified Gold. She has also charted a total of 38 singles on the Billboard "Hot Country Songs" chart, five of these singles have reached the #1 spot. One of the most popular female country singers of the '90s, Trisha Yearwood initially rose to fame as a protégée of Garth Brooks but quickly staked out her own identity. Yearwood has also performed at the Academy Awards and the Library of Congress. Trisha Yearwood was born in Monticello, Georgia, to Jack and Gwen Yearwood. Her father worked as a local banker as well as a farmer and her mother worked as a schoolteacher. Yearwood was raised on her father's farm. She attended Young Harris College, and while attending school, she participated in numerous musical activities including talent shows and choral groups. From an early age, she was a fan of Elvis Presley. Yearwood was named outstanding senior girl of the class of 1982 at Piedmont Academy. Though she started performing in church events, school musicals, and talent shows while in school, she pursued a two-year business degree at a junior college after graduation rather than go immediately into show business. However, after one semester at the University of Georgia, she knew she was unhappy with the large campus and wanted to be closer to country music. She then transferred from Georgia to Belmont University in Nashville, Tennessee. Yearwood interned as a receptionist for the local company MTM Records. Upon her graduation, in 1987, she was hired as a full time employee. Benefiting from the company's resources, Yearwood recorded a handful of demo tapes and worked as a backup singer for some up-and-coming artists. Most notably, Yearwood sang backup on Garth Brooks' No Fences (1990) album. Brooks and Yearwood soon became good friends and promised each other whichever of the two became famous first, they would promise to help the other one out. Brooks became famous first and soon began helping Yearwood gain initial stardom. She caught the attention of Nashville producer Tony Brown, who signed her to MCA Nashville Records. Yearwood then appeared as the opening act for Brooks's 1991 tour.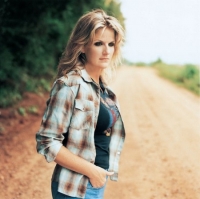 Yearwood's self-titled debut album was released in 1991, and the lead single, "She's in Love with the Boy," went to the top of the country charts, making her an instant star. Three more singles from the record — "Like We Never Had a Broken Heart" (co-written by Brooks), "That's What I Like About You," and "The Woman Before Me" — all went Top Ten, and Yearwood toured as Brooks' opening act, gaining immense exposure. As a result, she became the first female country singer ever to sell a million copies of her debut album. [1] The album eventually sold two million copies. To date, Yearwood's debut album is her second best-selling album, receiving a certification of 2x Platinum by the RIAA. In 1991, Yearwood won the Academy of Country Music Awards' "Top New Female Vocalist" award. Yearwood secured similar success with the 1992 release of Hearts in Armor, which featured the hit singles "Wrong Side of Memphis," "Woman Walk the Line," as well as a duet with Don Henley titled "Walkaway Joe," which peaked at #2 on the Billboard Country Chart. The title track of 1993's The Song Remembers When went to number two, and she followed it with a Christmas album, The Sweetest Gift, in 1994; that year, she also married Mavericks bassist Robert Reynolds. [1] In 1994 she won her first Grammy award, a duet with Aaron Neville, "I Fall to Pieces", an album cut that charted at #72 in 1994. The original version was by Patsy Cline in 1961. That same year, Yearwood was the subject of Lisa Gubernick's biography, Get Hot or Go Home: Trisha Yearwood, the Making of a Nashville Star. In 1995, Yearwood released her fourth studio album, Thinkin' About You. The lead single, "XXX's and OOO's (An American Girl)" peaked at #1 on the Billboard Country Chart, her first #1 since her debut single, followed by her third #1 single, "Thinkin' About You", as well as another Top 10 hit. Yearwood performed at the closing ceremonies of the 1996 Summer Olympics in Atlanta. In 1996, while flying from Nevada to New York, Trisha saved a man's life. Francesco Maccarrone, a baggage handler, was trapped in the belly of the plane. When the plane left the gate, Trisha heard pounding and screaming from under her seat and insisted the pilot stop the plane. After he emerged from the plane a shaken but relieved Francesco said, "I was a big Reba fan, but now I'm an even bigger Trisha fan."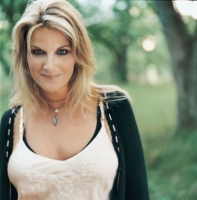 In 1997, Yearwood issued her first compilation, (Songbook) A Collection of Hits, which became her first album to top the country charts and which also reached the pop Top Five. One of the previously unreleased tunes was "How Do I Live," which was used on the soundtrack for the film Con Air. Fellow country star LeAnn Rimes released a version of the same tune around the same time, fueling a small rivalry, and some radio stations even mixed the two together to create a "duet" effect. Yearwood's version of the song was favored more by Country radio and peaked at #2 on the Billboard Country Chart that year, and also peaked at #23 on the Billboard Hot 100, her biggest hit on the Hot 100 to date. She won a Best Female Country Vocal Performance Grammy for "How Do I Live," Rimes' version which was a #2 Pop hit was favored more by Pop radio. Yearwood's two additional new singles from her Songbook album were major hits, "Perfect Love", which peaked at #1, and a duet with Brooks, "In Another's Eyes". In addition, Yearwood was also named "Top Female Vocalist" in 1997 by the Academy of Country Music and won the "Female Vocalist of the Year" award from the Country Music Association in 1997 and 1998. She also sang with Luciano Pavarotti in the summer of 1998 at his benefit for Liberian children. She also won her third Grammy win to date in 1998 for Best Country Collaborations with Vocals with Brooks on their hit single together. Yearwood released her next all-new album, Where Your Road Leads, in 1998, with Tony Brown producing in place of Fundis. "There Goes My Baby," "Powerful Thing," and "I'll Still Love You More" all went Top Ten, and another duet with Brooks on the title cut made the Top 20. Yearwood was inducted into the famed and historic Grand Ole Opry in 1999, cementing her status as a true icon in country music. She cites this, along with appearing on Sesame Street and being a puzzle on Wheel of Fortune, as the signs that she'd made it. On the night of her induction to the Opry, hosted by Porter Wagoner, Yearwood sang "Wrong Side of Memphis", which includes the line "I've had this dream from a tender age, calling my name from the Opry stage..." She was also presented with a necklace worn by one of her idols, Patsy Cline, by her record label president and Cline's husband and daughter. Afterwards she sang the Cline hit "Sweet Dreams (Of You)". Musically, Yearwood cites Linda Ronstadt as her biggest influence, and Ronstadt's sound and vocal stylings are clearly apparent in Yearwood's music. Other influences include Emmylou Harris, Reba McEntire, Patsy Cline, and Elvis Presley. 2000's Real Live Woman — recorded with Fundis — was a more personal outing that reflected some of her heartbreak and turmoil, left by her divorce from her husband at the time. The album produced 1 major hit single, "Real Live Woman", which only reached the Top 20 that year at #16. Along with the release of an album, Real Live Woman Yearwood took the time to contribute her voice to an animated video production for children, called Tangerine Bear, from Artisan Home Entertainment. In conjunction with that project, she joined with the Children's Foundation in donating a mobile electronic fun center to the Vanderbilt Children's Hospital.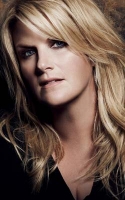 She released her eighth studio album in 2001, Inside Out. The lead single, "I Would've Loved You Anyway" became a Top 5 Country hit, peaking at #4 on the Billboard Country Chart in 2001 and became her first Top 10 since 1999. The title track was released as the second single from her album only peaking within the Top 40. "I Don't Paint Myself Into Corners" was the third and last single to be released making it to Top 50. In 2002, "Squeeze Me In," a duet with Brooks from his Scarecrow album, gave the pair another Top 20 hit on Billboard's Hot Country Singles & Tracks chart. Yearwood began interest in branching out into acting. She had already she participated in the 1993 film The Thing Called Love. Yearwood also played Lt. Cmdr. Teresa Coulter on the TV show JAG as a Navy coroner and forensic pathologist who aids JAG on several cases (seasons 3-7, 7 episodes). In 2002, Country Music Television's special of the 40 Greatest Women of Country Music ranked Yearwood at #10. Also in the Top 10 was Shania Twain (#7), Reba McEntire (#6), Dolly Parton (#4), and Yearwood's idol Patsy Cline at #1. After a three year hiatus from recording albums, Yearwood released her ninth studio album Jasper County in 2005. The album was described by Ralph Novak in People as "engaged," and "playful." Yearwood sold more than 117,000 copies of her new album, Jasper County, in its first week of release to top Billboard's Top Country Albums chart. Jasper County debuted at #4 on the all-genre Billboard 200, just behind the debut of rapper Paul Wall's The Peoples Champ and the #3 arrival of Christian rock band Switchfoot's Nothing Is Sound. Yearwood's first-week sales eclipsed those of Paul McCartney's Chaos and Creation in the Backyard. The album was a return to a more country sound than her last several studio recordings. The first single, Georgia Rain, set the tone for the album, with Yearwood altering the lyrics to pay homage to her home, singing about "the Georgia rain on the Jasper County clay." The lead single, "Georgia Rain" became her first major hit since 2002, peaking at #15 on the Billboard Country Chart, and was followed by two more singles from the album. In October, after its release in September, Jasper County was certified "Gold" by the RIAA and sold 500,000 copies nationwide. Also in 2005, Yearwood sang with other fellow Country stars including Billy Currington and Carrie Underwood for the Broadway Goes Country concert. Yearwood sung "For Good" with Wicked star Idina Menzel. The concert was a fundraiser for the Actors' Fund of America and the American Red Cross Disaster Relief Fund. In 2006, Yearwood participated in the CMA Music Festival in June. The festival also included Josh Turner, Joe Nichols, and Gary Allan. In late 2006, Yearwood announced she was parting ways with MCA Records. MCA then released in response a Greatest Hits CD on September 11, 2007. The album features two new songs, plus fifteen other tracks covering her career from 1991-2001. MCA also released Love Songs on January 15, 2008; an album made up of previously released tracks from her prior MCA albums. Yearwood parted ways with MCA Records in early 2007 and announced plans to begin recording her 10th album for Big Machine Records in Nashville. The album, Heaven, Heartache, and the Power of Love, was released on November 13, 2007. The title track, "Heaven, Heartache, and the Power of Love" was released to iTunes and to Country radio in September 2007, and peaked at #19 on the Billboard Country Chart in December. Yearwood was then nominated for Best Female Country Vocal Performance by the Grammy awards for the song. The second single was released in early 2008 titled, "This Is Me You're Talking To", which peaked at #25. Her third single from the album, "They Call It Falling for a Reason" was released July 14 to Country radio, and is currently an active on the Country charts. Yearwood is also featured as background vocals on Josh Turner's "Another Try" single, also released in January off his Everything Is Fine album, peaked at #15 in July 2008. Yearwood is featured duetting on a track with Reba McEntire on her newest album released in September 2007, Reba: Duets titled, "She Can't Save Him". On August 31, Yearwood appeared with R&B singer Kenneth "Babyface" Edmonds to film an episode of CMT Crossroads. This episode first aired on September 21, 2007. On October 28, Yearwood performed the Star Spangled Banner prior to Game Four of the 2007 World Series. Yearwood also released her first cookbook in April 2008, Georgia Cooking in an Oklahoma Kitchen (Recipes From My Family to Yours) includes more than 120 recipes for Southern dishes, as well as full-color photos taken in and around her home. Recipes include chicken tortilla soup, fried chicken with milk gravy, stuffed pork chops, breakfast sausage casserole, blackberry cobbler and banana pudding. Yearwood wrote the book along with her mother, Gwen, and her sister, Beth. On April 8, 2008, she appeared on Good Morning America to promote the new cookbook. She has since appeared on Live with Regis & Kelly as well as The View to promote it as well.
---
---