---
Trace Adkins Biography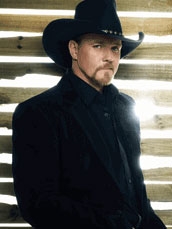 Trace Adkins
Real name: Tracy Darrell Adkins
Trace Adkins Biography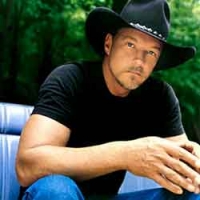 Trace Adkins made his debut in 1996 with the album Dreamin' Out Loud, released on Capitol Records Nashville. Since then, Adkins has released six more studio albums, as well as two Greatest Hits compilations. In addition, he has charted more than twenty singles on the Billboard country music charts, including the Number One hits "(This Ain't) No Thinkin' Thing", "Ladies Love Country Boys", and "You're Gonna Miss This", which peaked in 1997, 2007, and 2008 respectively. All but two of his studio albums have received gold or platinum certification in the United States; his highest-selling to date is 2005's Songs About Me, which has been certified 2× Multi-Platinum for sales exceeding two million copies.

He has also made several appearances on television, including as a panelist on the game shows Hollywood Squares and Pyramid; as a finalist on The Celebrity Apprentice; and in voice-overs in commercials for the KFC restaurant chain. In addition, Adkins has written an autobiography entitled A Personal Stand: Observations and Opinions from a Free-Thinking Roughneck, which was released in late 2007.

Adkins grew up in Sarepta, Louisiana. His musical interest came at an early age, when his father taught him to play the guitar. In high school, he joined a gospel music group called the New Commitments.He was also a member of Future Farmers of America (FFA). Later, Adkins went on to study at Louisiana Tech University, where he also played football; after graduation, he took up work at an oil rig. He lost the pinky finger on his left hand in an accident, and asked doctors to re-attach the finger at an angle so that he could continue to play guitar. Adkins then moved on to playing in honky tonk bars around Nashville, Tennessee in the early 1990s. An executive of Capitol Records spotted Adkins playing at a honky-tonk, and soon signed him to the label.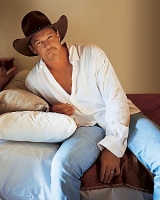 As well as losing his finger as a child, Trace Adkins has experienced a number of serious injuries as an adult. He was involved in a number of bar room incidents, and was also shot in the heart and lungs by his second wife. Adkins denies abusing her but comments that the relationship was marked by excessive alcohol use. He has also been stabbed and beaten severely. Adkins's first single, "There's a Girl in Texas", was released in 1996, reaching the Top 20 on the Billboard Hot Country Singles & Tracks charts. It was followed by the release of his debut album, Dreamin' Out Loud, later that year. The album produced several hit singles, including his first Number One in "(This Ain't) No Thinkin' Thing". His second album, Big Time, produced a Top 5 in "The Rest of Mine", but subsequent singles proved less successful. A change in management delayed the release of Adkins's third album, but the album (titled More...) was eventually released in late 1999. Although the album's title track reached Top 10, More... failed to achieve gold status.

On July 5, 2001, Adkins was charged with driving under the influence in Nolensville, Tennessee. The singer pleaded guilty and was sentenced to 11 months in jail; however, the sentence was suspended after 48 hours. In addition, he had to pay $350 in fines, and his driver's license was suspended for one year. Shortly afterward, he was injured in a tractor accident and had to temporarily cancel touring. He later entered a 28-day alcohol rehabilitation program in Nashville, shortly after the release of his Chrome album. Chrome was the first album of Adkins's to reach the Top 5 on the country albums charts; its title track reached Top 10 in late 2002.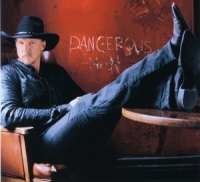 In 2003, Adkins released two albums: a Greatest Hits collection and Comin' on Strong. The same year, he was inducted into the Grand Ole Opry. He also made appearances as the center square on the game show Hollywood Squares, and did voice-overs in commercials for fast-food chain KFC. Only one single, "Then They Do", was released from the Greatest Hits compilation. Comin' on Strong, which succeeded the Greatest Hits album, produced two singles: the Top 5 single "Hot Mama", and "Rough & Ready", which peaked at #13. Adkins and Travis Tritt played the roles of prison convicts in a February 2004 episode of the television series Yes, Dear (Greg & Jimmy's Criminals).

In 2005, Adkins released his Songs About Me album. The album's second single, "Arlington", generated controversy over its content (a first-person account of a fictional soldier who was about to be buried in Arlington National Cemetery); as a result, the song was withdrawn from radio. It was followed by "Honky Tonk Badonkadonk", which became a highly successful crossover hit, bringing Adkins into the Top 40 of the Billboard Hot 100 for the first time. 2006 saw the release of Adkins's seventh studio album, Dangerous Man. "Swing", the album's lead-off single, peaked at #20, while the follow-up "Ladies Love Country Boys" became Adkins's first Number One single on the country charts since "(This Ain't) No Thinkin' Thing" in 1997. The album's final release, "I Wanna Feel Something", proved unsuccessful on the charts; as a result, Adkins announced that he would stop supporting the single.

In August 2007, Adkins released a single entitled "I Got My Game On". Originally, the song was planned to be the lead-off to a new album, tentatively titled Game On; however, Adkins decided not to release a full album, and instead released his second Greatest Hits compilation, American Man: Greatest Hits, Vol. 2, for which "I Got My Game On" served as the lead-off single. The album has also produced Adkins' fastest-climbing single to date in its second single, "You're Gonna Miss This". "You're Gonna Miss This" has also become his third Number One hit on the Hot Country Songs, as well as the most successful single to date on the Billboard Hot 100 (#12), Billboard Pop 100 (#19), and Hot Digital Songs charts (#8). He also released his first book, entitled A Personal Stand: Observations and Opinions from a Free-Thinking Roughneck.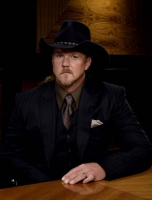 Adkins was previously a January-March 2008 contestant on NBC's The Celebrity Apprentice. Each celebrity contestant on the show was playing for money for his or her own selected charity. Adkins was playing for the Food Allergy and Anaphylaxis Network, which provides education, advocacy and research support to families dealing with the daily nightmare of serious and/or life-threatening food allergies. The musician chose the charity because his 6-year-old daughter, Brianna, suffers from life-threatening reactions to peanuts, milk and eggs. Adkins made it to the finale as one of the two finalists. Donald Trump ultimately "hired" Adkins' rival, tabloid editor Piers Morgan, who had his own charity.

Adkins appeared on the May 2nd, 2008 episode of CBS's The Young and the Restless playing himself and singing an acoustic version of "You're Gonna Miss This" to the characters of Nicholas and Phyllis. He is active in historic preservation, most notably and recently with Civil War Preservation Trust initiatives. Will appear in the upcoming film An American Carol (2008) as The Spirit of Christmas Future.
---
---