---
The Kendalls Biography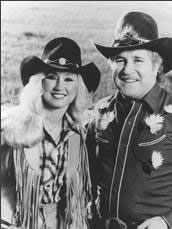 The Kendalls
Real name: Royce Kendall, Jeannie Kendall
The Kendalls Biography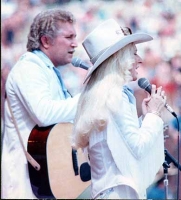 The Kendalls were a U.S. country music duo, which had a number of hits during the late 1970s and early 1980s. The duo consisted of Royce Kendall (born September 25, 1935 in St. Louis, Missouri; died May 22, 1998) and his daughter Jeannie Kendall (born October 30, 1954 in St. Louis, Missouri).
Formed in 1969, The Kendalls recorded an album for Stop Records, from which a single, a cover of John Denver's "Leaving on a Jet Plane" (previously a hit for Peter, Paul & Mary) was released in 1970, which just narrowly missed the top fifty on the U.S. country charts. The duo signed with Dot Records in 1972, and released an album and two singles, "Two Divided By Love", a cover version of The Grass Roots' hit and "Everything I Own", a cover of the group Bread's hit, both minor hits for the duo. Eventually they parted with their record label, focusing on performing live for a number of years, before signing with the independent Ovation label in 1977. Their first single for the label, a cover of the Kitty Wells hit "Making Believe", charted only making the Top 80 (possibly due to competition from Emmylou Harris' cover of "Making Believe", which hit the U.S. country charts around the same time). However, it was their second single, a "cheating" song called "Heaven's Just a Sin Away", that proved to be their breakthrough. The song topped the country charts and was also a minor crossover pop hit, and won the 1978 Grammy for Best Country Vocal by a Duo or Group. Subsequent hits included "Just Like Real People", "It Don't Feel Like Sinnin' to Me", "Sweet Desire", "You'd Make an Angel Want to Cheat", and a cover of Dolly Parton's "Put it Off Until Tomorrow". (Jeannie Kendall's powerful soprano has often been compared to Parton's.) In 1981, after Ovation Records closed their doors, the duo signed with Mercury Records, and continued to have hits with the Top 10's "Teach Me To Cheat" and "If You're Waitin' On Me (You're Backin' Up)". More hits followed with "Movin' Train" and "Precious Love" which made the Top 20
Their last top ten hit, "Thank God for the Radio", which came in 1984, was also their last number 1 country hit. Their last Top 20's would come in 1984 and 1985 with "My Baby's Gone" and "I'll Dance Every Dance With You" respectively. In 1986, they signed with MCA Records where they scored three mid-level hits that year. In 1987, they signed with Step One Records where they scored several minor hits. In 1989, they signed with Epic Records where their last chart single, "Blue, Blue Day" made the Top 70. They did continue to tour and perform and released several CDs up until Royce Kendall's death from a stroke he suffered in 1998. In the years since her father's death, Jeannie Kendall has released two solo albums, and she continues to perform.
---
---