---
SHeDAISY Biography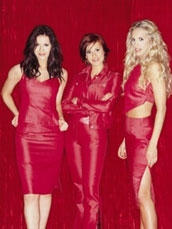 SHeDAISY
Real name: Kassidy Osborn, Kelsi Osborn, Kristin Osborn
SHeDAISY Biography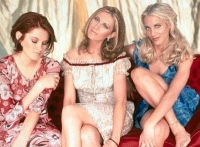 SHeDAISY is an American country music group founded in the late 1990s by sisters Kristyn Robyn Osborn (b. August 24, 1970), Kelsi Marie Osborn (b. November 21, 1974), and Kassidy Lorraine Osborn (b. October 30, 1976), all natives of Magna, Utah. The group's name is derived from a Navajo term meaning "my (little) sister". The trio got its start in 1989 under the name The Osborn Sisters. Signed to the Nashville division of RCA Records, they would record one album which was never released. By 1999, they had assumed the name SHeDAISY and had signed Lyric Street Records. Their first album to be released, The Whole SHeBANG, was issued that year and has been certified platinum in the United States. A Christmas album titled Brand New Year was released in 2000, followed by a remixed version of The Whole SHeBANG in 2002. Knock on the Sky was issued in 2003, followed by 2004's gold-certified Sweet Right Here, 2006's Fortuneteller's Melody and 2008's The Best of SHeDAISY, a compilation. Counting two Christmas singles, SHeDAISY has charted a total of fourteen singles on the Billboard Hot Country Songs charts. These include the Top Ten hits "Little Good-Byes" (#3, 1999), "This Woman Needs" (#9, 1999-2000), "I Will… But" (#2, 2000), and "Don't Worry 'Bout a Thing" (#7, 2005).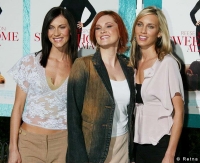 SHeDAISY began singing at an early age, performing for relatives in their hometown of Magna, Utah. They sold tickets to neighborhood shows and sang to the residents of local retirement homes. Eventually, they performed "The Star-Spangled Banner" at Utah Jazz home games. After moving to Nashville, Tennessee, they worked similar shifts at different department stores since they had to share one car, which they collectively owned. Kassidy is the primary lead vocalist of the group, with Kelsi singing high harmony and Kristyn on low harmony. They signed with their record company Lyric Street in 1997. However, they previously had a record deal with RCA Nashville, in 1989, and recorded an album with the label. The album itself was never released. At the time the album was recorded, the trio were known as The Osborn Sisters.
SHeDAISY was signed to Lyric Street Records in 1999. The trio's debut album, The Whole SHeBANG, was released in 1999. Its first three singles -- 1999's "Little Good-Byes" and "This Woman Needs", along with 2000's "I Will… But" were all Top Ten hits on the Billboard Hot Country Singles & Tracks charts. The album's fourth single, "Lucky 4 You (Tonight I'm Just Me)" fell just shy of Top Ten, while 2001's "Still Holding Out For You" peaked at #27. The Whole SHeBANG was certified platinum in the United States, for sales of one million copies.
A CMT special featuring SHeDAISY performing many of the songs from The Whole SHeBANG live in-concert aired February 9, 2000. They released a Christmas album titled Brand New Year in September of 2000. Two of the album's cuts -- renditions of "Jingle Bells" and "Deck the Halls" -- both entered the country music charts. In addition, SHeDAISY hosted a Christmas special titled A SHeVERY Merry Christmas, on The Nashville Network (a television network now known as Spike TV). A remixed version of the trio's debut album, titled The Whole SHeBANG: All Mixed Up, was issued in late 2001.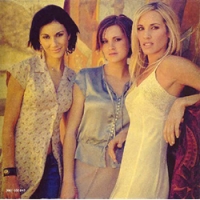 Knock on the Sky was the title of SHeDAISY's second album, issued in 2002. Though the album made its debut at number 3 on Billboard's country album chart, its singles did not fare as well as their debut album. Only two singles were issued from the album: "Get Over Yourself" and "Mine All Mine", which peaked at #27 and #28 on the country singles charts, respectively. The latter song was also featured on the soundtrack for the 2002 film Sweet Home Alabama and featured a video including clips from the movie. The album quickly fell off the sales charts. Despite the low sales numbers, SHeDAISY referred to the album as their best and most artistic album. On January 2, 2003, SHeDAISY sang "The Star-Spangled Banner" and "I Will... But" at the half-time show of the Orange Bowl.
SHeDAISY returned to the country music charts in 2004 with the single "Passenger Seat", the lead-off to their third studio album Sweet Right Here. "Passenger Seat" peaked at #12 on the Billboard country charts, in addition to reaching Top 10 on the Radio & Records country singles charts. Sweet Right Here was released on June 8, 2004, debuting at #2 on the Billboard Top Country Albums charts; in addition, the album achieved a gold certification from the RIAA, for sales of over 500,000 copies.
If you purchased Sweet Right Here at Target, for a limited time, you could get two bonus tracks "Whose Life Am I In" and " Shame." If you purchased Sweet Right Here at Wal-Mart, for a limited time, you could get digital copies of two bonus tracks "Unlove You" and "With You I Feel" Also in 2005, the trio recorded a cover of "Battle Hymn of the Republic." The album's second single, "Come Home Soon", was issued in late 2004. A first-person ballad about a woman wishing for her husband to come back home from fighting war overseas, "Come Home Soon" also inspired sales of special "Come Home Soon" bracelets, the proceeds of which went to the American Red Cross. "Don't Worry 'Bout a Thing", the third single from Sweet Right Here, became SHeDAISY's first Top Ten hit in five years, reaching a peak of #7. Country music artist LeAnn Rimes also recorded a song co-written by Kristyn Osborn, titled "I Dare You", for her 2005 album This Woman. SHeDAISY also included their version of the song on Sweet Right Here.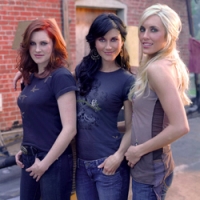 Fortuneteller's Melody was the title of SHeDAISY's fourth (sixth overall) studio album. Released in 2006, it produced two minor hit singles on the country music charts: "I'm Taking the Wheel" and "In Terms of Love", the latter of which was co-written by veteran songwriter Don Schlitz. SHeDAISY also contributed the song "God Bless the American Housewife" for a special compilation titled Music from and Inspired by Desperate Housewives. Although the song was never released as a single, a music video was made for it. The song was also included on Fortuneteller's Melody In 2007, Canadian singer/songwriter Jann Arden recorded a song she co-wrote with Kristyn entitled 'Counterfeit Heart' for her album, Uncover Me. Kristyn also lends background vocals to two tracks. Also in 2007, the trio recorded a cover of Bonnie Raitt's "Something to Talk About" for the soundtrack to the film The Guardian. Country music singer Carmen Rasmusen recorded a song written by Kristyn entitled 'Stranded' for her debut album, Nothin' Like the Summer. SHeDAISY released their first greatest hits package, The Best of SHeDAISY, on February 5, 2008. This album included the greatest hits from their first four studio albums (not counting the Christmas album).In mid-2008, SHeDAISY and their song "23 Days" were featured in an advertising campaign for the Sleep Number bed created by Select Comfort. The TV commercial initially aired the night of March 20, 2008. A brand-new single will be released in September 2008, with an album of all-new material to follow.
---
---