---
Merle Haggard Biography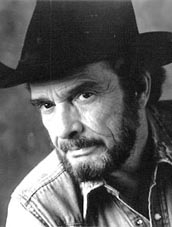 Merle Haggard
Real name: Merle Ronald Haggard
Artist name(s): The Hag
Merle Haggard Biography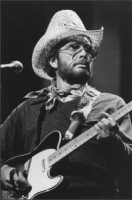 Merle Ronald Haggard (born April 6, 1937) is an American country music singer, guitarist and songwriter. Emerging from prison in the 1960s, Merle Haggard has become one of the true giants of country music, as a singer, songwriter, and instrumentalist. Along with Buck Owens, Haggard and his band "The Strangers" helped create the Bakersfield Sound, characterized by twangy telecaster guitars, tight vocal harmonies, and a rough edge not heard on the polished Nashville Sound recordings of that era. By the 1970s, he was aligned with the growing outlaw country movement, and has continued to release successful albums through the 1990s and into the 2000s. His songs display unflinching personal honesty about such universal themes as love, loss, regret and redemption.
In 1951, Haggard ran away to Texas with a friend but returned that same year and was arrested for truancy and petty larceny. He ran away from that juvenile detention center to which he was sent and went to Modesto, California. He worked odd jobs - legal and not - and began performing in a bar. Once he was found again, he was sent to the Preston School of Industry, a high-security installation. Shortly after he was released, 15 months later, Haggard was sent back after beating a local boy during a burglary attempt. After his third release, Haggard saw Lefty Frizzell in concert with his friend, Bob Teague and sang a couple of songs for him. Lefty was so impressed that he allowed Haggard to sing at the concert. The audience loved Haggard and he began working on a full-time music career. After earning a local reputation, Haggard's money problems caught up with him. He was arrested for robbing a Bakersfield tavern in 1957 and was sent to prison in San Quentin for 10 years. Even while in prison, Haggard was wild, running a gambling and brewing racket from his cell. Merle attended three of Johnny Cash's concerts at San Quentin. Seeing Cash perform inspired Haggard to straighten up and pursue his singing.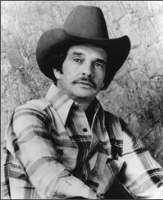 Upon his release, Haggard started digging ditches and wiring houses for his brother. Soon he was performing again, and later began recording with Tally Records. The Bakersfield Sound was developing in the area as a reaction against the over-produced honky tonk of the Nashville Sound. Haggard's first song was "Skid Row." In 1962, Haggard wound up performing at a Wynn Stewart show in Las Vegas and heard Wynn's "Sing a Sad Song". He asked for permission to record it, and the resulting single was a national hit in 1964. In 1968, Haggard's first tribute LP Same Train, Different Time: A Tribute to Jimmie Rodgers, was released to great acclaim. "Okie From Muskogee", 1969's apparent political statement, was actually written as an abjectly humorous character portrait. Haggard called the song a "documentation of the uneducated that lived in America at the time." (Phipps 2001). He said later on the Bob Edwards Show that "I wrote it when I recently got out of the joint. I knew what it was like to lose my freedom, and I was getting really mad at these protestors. They didn't know anything more about the war in Vietnam than I did. I thought how my dad, who was from Oklahoma, would have felt. I felt I knew how those boys fighting in Vietnam felt." Later, Alabama Gov. George Wallace asked Haggard for an endorsement, which Haggard declined. However, Haggard does express sympathy with the "parochial" way of life expressed in "Okie" and songs such as "The Fightin' Side of Me" (ibid). It should be noted, however, that after "Okie" was released, Haggard wanted to release a self-penned song titled "Irma Jackson" about an interracial couple; the single was quashed by his record company, although Tony Booth went on to record it in 1970. It should also be noted that Haggard has spoken publicly, most recently on a January 2008 episode of Real Time with Bill Maher, about a song he wrote for Hillary Clinton called "Hillary."
Regardless of exactly how they were intended, "Okie From Muskogee", "The Fightin' Side of Me", and "I Wonder If They Think Of Me" were hailed as anthems of the so-called "Silent Majority" and presaged a trend in patriotic songs that would reappear years later with Charlie Daniels' "In America", Lee Greenwood's "God Bless the USA", and others. But other Haggard songs were appreciated regardless of politics: the Grateful Dead began performing Haggard's tune "Mama Tried" in 1969, and it stayed in their regular repertoire thereafter; singer-activist Joan Baez, whose political leanings couldn't be more different from those expressed in Haggard's above-referenced songs, nonetheless covered "Sing Me Back Home" and "Mama Tried" in 1969. The Everly Brothers also used both songs in their 1968 country-rock album Roots.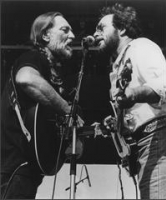 "If We Make It Through December" turned out to be Haggard's last pop hit. He published an autobiography called Sing Me Back Home. Although he won a Grammy Award for Best Male Country Vocal Performance for 1984's a new kind of honky tonk had begun to overtake country music, and singers like George Strait and Randy Travis had taken over the charts. Haggard's last No. 1 hit was "Twinkle Twinkle Lucky Star" from his smash album Chill Factor in 1988.
Although he has been outspoken in his dislike for modern country music, he has praised newer stars such as George Strait and Randy Travis. The Dixie Chicks paid him tribute by recording Darrell Scott's song "Long Time Gone", which criticizes Nashville trends: "We listen to the radio to hear what's cookin' / But the music ain't got no soul / Now they sound tired but they don't sound Haggard," with the following lines mentioning Johnny Cash and Hank Williams in the same vein. Collin Raye paid him tribute with the song "My Kind Of Girl", where he said "How 'bout some music / She said have you got any Merle / That's when I knew she was my kind of girl. Country music artists Alan Jackson and George Strait sang "Murder On Music Row" in 2000. The song gained attention for It's criticism of mainstream country trends. They mentioned him in the song by saying "The Hag wouldn't have a chance on today's radio / Because they committed murder down on music row." In 2005, the country rock duo Brooks and Dunn sang a number called "Just Another Neon Night" off their Hillbilly Deluxe album. In the song Ronnie Dunn said "He's got an Eastwood grin and a too early swagger / Hollerin' turn off that rap / And play me some Haggard." Even George Jones praised him in the song "Who's Gonna Fill Their Shoes" in 1985.
In October 2005, Haggard released his album, "Chicago Wind", to mostly positive reviews. The album contained an anti-Iraq war song titled "America First," in which he laments the nation's economy and faltering infrastructure, applauds its soldiers, and sings, "Let's get out of Iraq, and get back on track." This follows from his 2003 release "Haggard Like Never Before" in which he includes a song, "That's The News" questioning the strength and validity of President Bush's proclamation that the war in Iraq was over. In 2006, Haggard was back on the radio, in a duet with Gretchen Wilson, "Politically Uncorrect". He also featured on "Pledge Allegiance to the Hag" on Eric Church's debut album.
---
---