---
Levon Helm Biography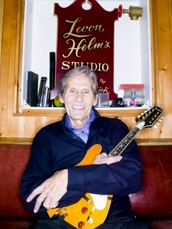 Levon Helm Biography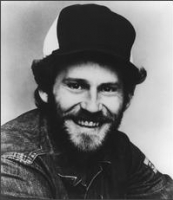 Helm was born in Marvell, Arkansas, and grew up in Turkey Scratch, a hamlet west of Helena, Arkansas, where he began playing the guitar at the age of eight. Helm also played drums during his formative years and established his first band The Jungle Bush Beaters while in high school. He was influenced by the Grand Ole Opry and by R&B songs that he heard on radio station WLAC out of Nashville, Tennessee. Helm became interested in rock and roll after attending an Elvis Presley concert. He moved from Arkansas to Memphis, Tennessee, where he was influenced by Bo Diddley and Conway Twitty. At age 17 he was invited to join The Hawks, backing rockabilly singer Ronnie Hawkins. Soon after Helm joined The Hawks, they moved to Toronto where, in 1959, they signed with Roulette Records and released several singles, including a few hits. In the early 1960s Helm and Hawkins recruited an all-Canadian lineup of musicians: guitarist Robbie Robertson, bassist Rick Danko, pianist Richard Manuel and organist Garth Hudson. In 1963, the band parted ways with Hawkins and started touring under the name Levon and The Hawks and later to the Canadian Squires before finally changing back to The Hawks. They recorded two singles, but found little success.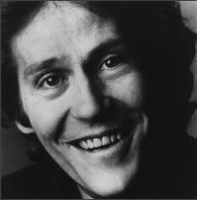 By the mid 1960s, Bob Dylan was interested in performing electric rock music, and asked The Hawks to be his backing band. Disheartened by fans' negative response to Dylan's new sound, Helm returned to Arkansas for what turned out to be a two-year layoff, being replaced by Mickey Jones. During his absence, The Hawks had taken up residence in Woodstock, New York, and began writing their own songs; Danko and Manuel also shared writing credits with Dylan on a few songs. Here they recorded a large volume of demo tapes, many with fellow Woodstock resident Dylan (who had completely withdrawn from public life the previous year). These recordings were widely bootlegged, and the best tracks were officially released only in 1975 as The Basement Tapes double album. The songs and themes developed during this period played a crucial role in the group's future direction and style. In 1967 Helm returned to the group, which by then was christened simply as The Band. They recorded Music From Big Pink, which catapulted them into stardom. On Big Pink, Manuel was the most prominent vocalist and Helm sang mainly backup, with the outstanding exception of "The Weight," but as Manuel's health deteriorated and Robertson's songwriting increasingly looked south for influence and direction, subsequent albums relied more and more on Helm's growling but eerily plaintive vocals (alone or in harmony with Danko), both enriched by and anchored in lush Southern texture. Singing lead, Helm brought out common elements in folk and blues vocal styles, often assuming the character of a kind of mythical Southern everyman, who witnesses bewildering events and reacts to them with wonder and rage. Helm played drums for perhaps 85% of The Band's songs, including most of those for which he sang lead. But the entire group was multi-instrumental, and for certain songs the group featured Manuel on drums, Helm on mandolin (as on "Evangeline"), rhythm guitar (the 12-string guitar backdrop to "Daniel and the Sacred Harp" is by Helm), or bass (while Danko played fiddle).
Helm remained with The Band until their 1976 farewell performance, The Last Waltz, which was recorded in a documentary film by Martin Scorsese. Although many now know Helm through his appearance in the concert film – a performance remarkable for the fact that Helm's vocal tracks appear substantially as he sang them during a grueling concert – he repudiated his involvement with the film shortly after the final scenes were shot and, in his autobiography, offers scathing criticisms of the film and of his former bandmate, Robertson, who produced the film.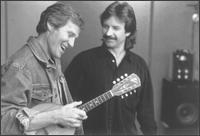 With the breakup of The Band in its original form, Helm began working on a solo album Levon Helm and the RCO All Stars, which was followed soon thereafter by Levon Helm. He recorded solo albums in 1980 and 1982 entitled American Son and (once again) Levon Helm. Helm also participated in Paul Kennerley's 1980 country music concept album, The Legend of Jesse James, singing the role of Jesse James alongside Johnny Cash, Emmylou Harris and Albert Lee. In 1983, The Band reunited without Robbie Robertson, but then Manuel committed suicide while on tour in 1986. Helm, Danko and Hudson continued in The Band, releasing the album Jericho in 1993 and High on the Hog in 1996. The final album from The Band was the 30th anniversary album, Jubilation, released in 1998. Helm published an autobiography entitled This Wheel's on Fire in 1993.
Helm was diagnosed with throat cancer in the late 1990s after suffering hoarseness. Advised to undergo laryngectomy, Helm instead underwent an arduous regimen of radiation treatments at Sloan-Kettering Cancer Center. Although the tumor was successfully removed, his vocal cords were damaged, and his clear, powerful tenor voice was replaced by a quiet rasp. Initially Helm only played drums and relied on guest vocalists at the Rambles, but Helm's singing voice grew stronger and on January 10, 2004, he sang for the first time at one of his Ramble Sessions. In 2007, during production of Dirt Farmer, he estimated that his singing voice was 80% recovered. The Levon Helm Band features his daughter Amy Helm, along with Larry Campbell, Teresa Williams, Jimmy Vivino, Mike Merritt, Brian Mitchell, Erik Lawrence, Steven Bernstein and blues harmonica player Little Sammy Davis. He hosts Midnight Rambles at his home in Woodstock, New York that are open to the public. Fall 2007 saw the release of Dirt Farmer, Helm's first studio solo album since 1982. Dedicated to Helm's parents and co-produced by his daughter Amy, the album combines traditional tunes Levon recalled from his youth with newer songs (by Steve Earle, Paul Kennerley and others) which flow from similar historical streams.
---
---