---
Leftover Salmon Biography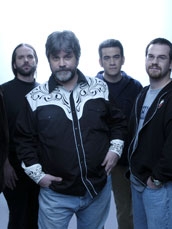 Leftover Salmon
Real name: Drew Emmitt, Vince Herman and Mark Vann, Noam Pikelny, Greg Garrison, Bill McKay, Jeff Sipe, Tye North, Jose Martinez, Michael Wooten
Leftover Salmon Biography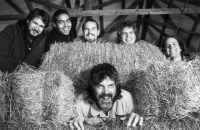 Leftover Salmon is a jam band from Boulder, Colorado, formed in 1989. Their unique blend of bluegrass, rock, country, and Cajun/Zydeco, which the band calls "Polyethnic Cajun Slamgrass", has found favor with the jam band scene. The band took a hiatus in 2005, and spent parts of 2007 in a reunion. The band formed by accident in 1989, when a local band, the Salmon Heads, asked some members of the Left Hand String Band to fill some missing spots in its lineup. The synergy worked and the result was Leftover Salmon. The lineup would change significantly over the years, but the "Big Three" -- Drew Emmitt, Vince Herman and Mark Vann -- remained the heart of the band until Vann's death in 2002.

After the independent release of Bridges to Bert in 1993 and the 1995 live follow-up Ask The Fish, Leftover Salmon gained a spot on the H.O.R.D.E. festival tour and a contract withHollywood Records. Their Hollywood debut and second studio album, Euphoria with guest keyboardist Pete Sears, continued to define their eclectic sound and introduced many songs that would become classics for the band.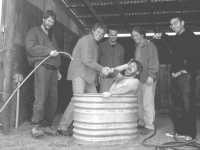 In March 2002, founding member and banjoist Mark Vann lost his battle with cancer. He was replaced by Noam Pikelny. In 2004 the band announced they would be going on hiatus at the end of the year. An award nominated documentary film of Leftover Salmon, titled "Years In Your Ears," was released on DVD in November 2006. Leftover Salmon reunited in 2007 and played six performances, including the High Sierra Music Festival in Quincy, CA, the All Good Festival in WV,as well as Denver and Boulder, CO shows in late December. Leftover Salmon marked their unofficial return to the stage with a performance at the Telluride Bluegrass Festival on Sunday, June 24, 2007, as "Drew Emmitt and Vince Herman and Friends." They were introduced by Jeff Austin of Yonder Mountain String Band with the line, "No matter what the program says, we all know what's going on here.' Despite their various successful side projects, Leftover Salmon played seven times during the summer of 2008. The band has already scheduled shows for early January, 2009, as well. They will perform between two and five shows on Jam Cruise 7.
---
---