---
John Fogerty Biography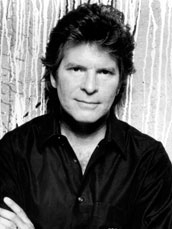 John Fogerty Biography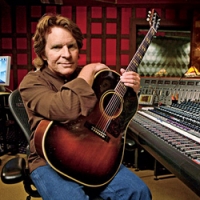 John Cameron Fogerty is an American rock singer, songwriter, and guitarist, best known for his time with the swamp rock/roots rock band Creedence Clearwater Revival. He was born in Berkeley, California. Inspired by Rock and Roll pioneers, especially Little Richard and Bo Diddley, John and his brother Tom Fogerty joined Doug Clifford and Stu Cook in the late 1950s to form the band Tommy Fogerty and the Blue Velvets in El Cerrito, California. After signing with the jazz label Fantasy in 1965, they became the Golliwogs and released a few singles that were largely ignored.
Fogerty was almost drafted in 1966, but instead he joined an Army reserve unit. He served at Fort Bragg, Fort Knox and Fort Lee. Fogerty was discharged from the army in July 1967. By 1968, things started to pick up for the band. The band released its first album, the self-titled Creedence Clearwater Revival, and also had their first hit single, "Susie Q". Many other hit singles and albums followed beginning with "Proud Mary" and the parent album Bayou Country. John Fogerty, as writer of the songs and leader of the band, felt that his musical opinions should count for more than those of the others, leading to resentments within the band. These internal rifts, and Tom's feeling that he was being taken for granted, caused him to leave the group in 1971. The two other group members Stu and Doug wanted a greater role in the band's future. Fogerty, in an attempt to keep things together, insisted bassist Stu Cook and drummer Doug Clifford share equal songwriting and vocal time on the band's final album, Mardi Gras, in 1972. They told him the fans would not accept it as a CCR LP, but he said, "My voice is a unique instrument, and I will not lend it to your songs." He gave them an ultimatum: either they would do it or he would quit immediately. They accepted his ultimatum, but the album received poor reviews and sold poorly. The group disbanded shortly afterwards. Creedence did reunite briefly in 1980 at Tom Fogerty's wedding.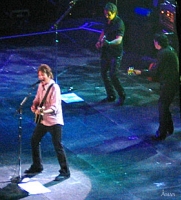 John Fogerty began a solo career, originally under the name The Blue Ridge Rangers for his 1973 debut. Fogerty played all of the instruments on covers of others' hits, such as "Jambalaya" (which was a Top 40 hit). His second solo album John Fogerty was released in 1975. Sales were slim and legal problems delayed a followup, though it yielded "Rockin' All Over the World", a top 40 hit for Fogerty in North America. Fogerty's legal problems continued to dog him for much of his career. His music publisher, Jondora Music (affiliated with Fantasy Records), filed a suit against him, claiming that his song "Old Man Down the Road" on 1985's Centerfield album sounded too much like his earlier compositions as songwriter for CCR, notably "Run Through the Jungle."
Fogerty released an album called Hoodoo in 1976. A single preceded the album's release, but it performed poorly. The album, for which covers had already been printed, was rejected by Asylum Records on the eve of its release. Fogerty built a cabin near Troy, Oregon, where he hunted elk, and didn't release a new album for eight years. He stated that he instructed Asylum Records to destroy the master tapes for "Hoodoo" sometime in the 1980s. Fogerty is something of a perfectionist, often destroying unreleased material. Fogerty says that he was unable to write music during this period of his life.
Fogerty's solo career re-emerged in full force with 1985's Centerfield, his first album for Warner Bros. Records (which took over co-ownership of Asylum's contract with Fogerty). Centerfield went to the top of the charts and included a top-ten hit in "The Old Man Down The Road"; the title track is frequently played on classic rock radio and at baseball games to this day. But that album was not without its legal snags either. Two songs on the album, "Zanz Kant Danz" and "Mr Greed", were believed to be attacks on Fogerty's former boss at Fantasy Records, Saul Zaentz. "Zanz Kant Danz" was about a pig who can't dance but would "steal your money". When Zaentz responded with a lawsuit, Fogerty issued a revised version of "Zanz Kant Danz" (changing the lead character's name to Vanz). Another lawsuit claimed that "The Old Man Down The Road" shared the same chorus as "Run Through The Jungle" (a song from Fogerty's days with Creedence to which Fantasy Records had owned the publishing rights). Fogerty ultimately won his case when he proved that the two songs were wholly distinct compositions. The followup album to Centerfield was Eye of the Zombie in 1986, which was less successful. Fogerty toured behind the album, but he refused to play any Creedence material. The album took on a darker mood, talking about a troubled society, terrorism, and pop stars selling out. To this day, he refuses to play material from the Zombie album. Fogerty played Creedence material again at a concert in Washington, D.C., for Vietnam veterans that took place on July 4, 1987. The show was aired on HBO. Aside from the show at the Palomino, this was the first time Fogerty had performed any Creedence Clearwater Revival songs since 1972.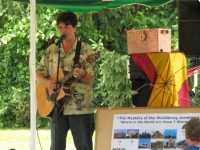 Fogerty returned to the commercial music industry in 1997 with Blue Moon Swamp. The layoff between Zombie and Swamp had been longer than his mid-'70s-mid-'80s break. The album was much more successful than his previous effort and won the Grammy for best rock album in 1997. A live album of the equally successful tour was released to similar acclaim and good sales. It seemed as though Fogerty was back, but again he drifted out of the mainstream, only returning after another break in 2004. Deja Vu (All Over Again) was Fogerty's next release. His new record contract was with DreamWorks Records, which had taken over distribution of Fogerty's Warner Bros. catalog. Rolling Stone wrote: "The title track is Fogerty's indictment of the Iraq war as another Vietnam, a senseless squandering of American lives and power". On the album, Fogerty squeezed 10 songs into only 34 minutes.
Fogerty's touring schedule increased in the period after Deja Vu (All Over Again). In October 2004, Fogerty appeared on the Vote for Change tour, playing a series of concerts in American swing states. In an ironic musical twist, George W. Bush has stated that 'Centerfield' is his favorite song. Fogerty's numbers were played with Bruce Springsteen and the E Street Band. The summer of 2006, Fogerty toured the USA with Willie Nelson. On June 29, he played his first headlining British concert since 1972, at the Hammersmith Apollo theater in London, as part of the European leg of the tour. During that leg, he also performed in Sundsvall, Sweden, where 25,000 people came to see him perform at the town square. On Thanksgiving Day of 2006, Fogerty performed at halftime at the Miami Dolphins/Detroit Lions game as well as at the Denver Broncos/Kansas City Chiefs halftime later that evening.
---
---