---
Jimmy Buffett Biography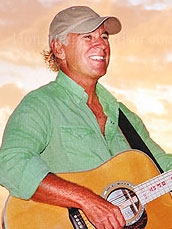 Jimmy Buffett
Real name: James William Buffett
Artist name(s): Bubba, JB, Freddie Fishsticks
Jimmy Buffett Biography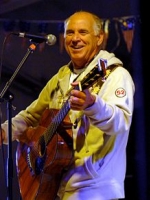 Buffett began his musical career in Nashville, Tennessee during the late 1960s as a country artist and recorded his first album, the folk rock Down to Earth, in 1970. During this time Buffett could be frequently found busking for tourists in New Orleans. Country music singer Jerry Jeff Walker took him to Key West on a busking expedition. Buffett then moved to Key West and began establishing the easy-going beach bum persona for which he is known. Following this move, Buffett combined country, folk, and pop music with coastal as well as tropical lyrical themes for a sound sometimes called "gulf and western." Today, he is a regular visitor to the Caribbean island of Saint Barts and other islands where he gets inspiration for many of his songs and some of the characters in his books. Buffett's third album was the 1973 A White Sport Coat and a Pink Crustacean. A1A followed in 1974, Havana Daydreamin' appeared in 1976, followed by 1977's Changes in Latitudes, Changes in Attitudes, which featured the breakthrough hit song "Margaritaville".
During the 1980s, Buffett made far more money off his tours than albums and became known as a popular concert draw. He released a series of albums during the following twenty years, primarily to his devoted audience, and also branched into writing and merchandising. In 1985, Buffett opened the first of the "Margaritaville" restaurants in Key West, bringing new visibility and life to the Margaritaville name. During the 1980s Buffett played at the Houston Livestock Show and Rodeo, he briefly changed the name of the band from "Coral Reefers" to the "Coral Reef Band" to suit the HLS&R's request as they thought "Reefers" was a drug related reference. HLS&R is a charity event that provides student grants to children and young adults that compete in agriculture contests (FFA). Two of the more out-of-character albums were Christmas Island, a collection of holiday songs, and Parakeets, a collection of Buffett songs sung by children and containing "cleaned-up" lyrics (like "a cold root beer" instead of "a cold draft beer").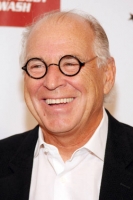 Buffett continues to tour throughout the year although he has shifted recently to a more relaxed schedule of around 20–30 dates, and rarely on back-to-back nights, preferring to play only on Tuesdays, Thursdays and Saturdays, thus the title of his 1999 live album Buffett Live — Tuesdays, Thursdays, Saturdays. Purchasing tickets is difficult with most of his concerts selling out in minutes.
In the summer of 2005 Buffett teamed up with Sirius radio and introduced channel 31 Radio Margaritaville. Until this point Radio Margaritaville was solely an online channel. The channel broadcasts from the Margaritaville restaurant at Universal CityWalk in Orlando, Florida. The channel will still be available online at www.radiomargaritaville.com.
In September 2005, Buffett became the first musician to stage a concert at Wrigley Field in Chicago. In August 2006, he released the album Take The Weather With You. The song "Breathe In, Breathe Out, Move On" on this album refers to 2005's Hurricane Katrina. Also on the album he pays tribute to Merle Haggard with his rendition of "Silver Wings" and covers, with Mark Knopfler playing on the his track, "Whoop De Doo." Of the over 30 albums Jimmy Buffett has released, as of October, 2007, he has 8 Gold Albums and 9 Platinum or Multi Platinum Albums. In 2003 Buffett won his first ever Country Music Award (CMA) for his song "It's 5 O'clock Somewhere" with Alan Jackson, and was nominated again in 2007 for the CMA Event of the Year Award for his song "Hey Good Lookin" which featured Alan Jackson and George Strait.
---
---