---
Jason Meadows Biography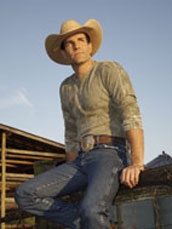 Jason Meadows Biography

Music and rodeo have been Jason Meadows' two greatest passions since he was six years old, and while few entertainers have the talent to make a living both on stage and on horseback, Jason is on that short and noteworthy list. Fortunately for country fans, these days the music takes center stage. The combination gives this handsome Oklahoman the rugged authenticity that helped carry him from his family's farm in Calera to Nashville and from regional clubs to his impressive national debut with the CD 100% COWBOY. Along the way, he so impressed Reba McEntire that the Oklahoma superstar made it her business to help set him up in Nashville, and he turned both the audience and judges of the hit USA Network "Nashville Star" TV series into fans with his bigger-than-life persona and ownership of the center stage spotlight. That's not to say it was easy. The handsome Oklahoman had to draw on every bit of his background--the strength, the vision, the perseverance in the face of huge odds--to earn national acclaim. It's a testament to the depth of his talent and his drive that he's done just that.
100% COWBOY captures everything that makes Jason compelling both as a singer and as a person. Its debut single, "100% Cowboy," is the perfect calling card, a powerhouse of a song with an unblinking look at what it is to be a modern-day cowboy, something possible in a number of heroic professions. It's subject matter that comes naturally to a performer whose leisure-time pursuits involve fast horses and faster dirt bikes and who embodies the life the song embodies. From there, the CD provides any number of highlights. "Where Did My Dirt Road Go" brings a special poignancy to the all-too-common loss of rural land to development. "Just Pray" brings faith and need together in the face of some of life's biggest challenges. "18 Video Tapes" is a powerful country song, a poignant tale of a father's love, recorded for a son he knows he will never see grow up. "Big Shot" is music as brightly polished as a brass buckle, with a story that conveys confidence born of talent rather than empty bravado. The autobiographical "Here I Come" uses Jason's own struggles to sketch out the parameters of his life, his approach and his goals, painting an indelible portrait of a one-of-a-kind performer who has an electric presence that lights up a room or a stage and who wears his cowboy credentials naturally and genuinely.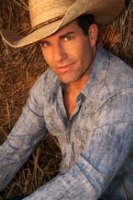 Jason followed his interest into every music class he could take, riding his talent and training to statewide medals in music competitions. By high school, he was singing at fairs, round-ups, street festivals and other events. Meanwhile, he was developing an interest in animals nurtured since he was young as well. Soon he was playing several nights a week, and not long after that he left for a bigger band called Heart Talk. Although music and riding would both remain passionate pursuit - he can still be found roping at many charity rodeo events - music had taken a front seat when it came to earning a living. Not long afterward, Reba McEntire heard about the band's talented singer and sent representatives to hear him at Twister's in Pittsburg, Kansas. Jason was soon meeting with Reba, who helped him get on his feet once he made the move to Nashville. He moved from a three-bedroom brick home to a two-bedroom apartment with twice the rent, and went to work at construction and singing demos. Although he began making publishing and other contacts, the road was a long one and he contemplated a move back to Oklahoma. Then, while he played at a party, he met Kerry Bay, who recognized his talent and began writing and recording with him. When producer Nick Pellegrino came into the picture, the pieces all came together.
"We let him listen to what we had," Jason says, "Nick heard the potential and took it to the next level. Thank God he did." They began shopping the demos to labels and almost immediately heard suggestions that Jason try out for "Nashville Star." He resisted at first, but says, "Finally I just took the shot, and I'm glad I did. I was hoping to get into third or fourth place and get some exposure, but I just kept pushing and wound up in one of the show's top two slots." Meadows was the season three "Nashville Star" first runner-up. Jason captivated the show's judges and audiences with his silver screen good looks, his singing talent and his songwriting skills, and proved to be a seasoned, versatile and compelling performer. He quickly earned a fan base so big that when he did a hometown concert at the Choctaw Coliseum, he drew a venue-record crowd of nearly 7,000. Since the tour that followed "Nashville Star," both Jason and his fans have been eagerly awaiting the release of 100% COWBOY and Jason's return to touring. "I was born to do this," he says. "When I step out on that stage, it's kind of like stepping up to the edge of the Grand Canyon. You look out and it takes your breath away."
---
---