---
James Talley Biography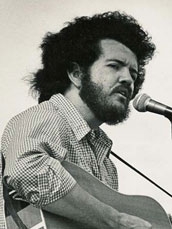 James Talley Biography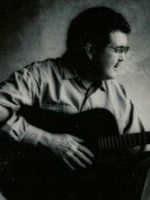 James Talley is an Oklahoma born folk-country-blues singer/songwriter, whose career now spans nearly forty years. His name has been mentioned alongside Woody Guthrie, Merle Haggard and Bob Dylan, and praised for the quality of his songwriting and wise, expressive voice. Noted author and music critic, Peter Guralnick has said of James' work, "There are few singer-songwriters who could produce a collection of such magnitude coupled at the same time with such lightness, beauty, and all-out social conscience. Woody Guthrie never wrote a more direct or affecting song than "Richland, Washington"; Bruce Springsteen never wrote a more powerful one than "Tryin' Like the Devil."
In 1968 James moved from New Mexico to Nashville, Tennessee to try and get his songs recorded. He soon discovered, however, that the commercial music business was not attuned to that kind of honesty.
The late John Hammond, Sr. at Columbia Records in New York was his first mentor, and championed his writing in the early 1970s, as he had the careers of Bob Dylan, Leonard Cohen and Bruce Springsteen. When Hammond could not get James' more country-flavored sound signed at Columbia in New York, he sent him to Jerry Wexler, whose Atlantic Records was starting a new Country division in Nashville at the time. Wexler signed James to his first recording contract at Atlantic Records in 1972 along with Doug Sahm and Willie Nelson. Atlantic's Nashville operation, however, did not do well at the time and Atlantic closed its Nashville office. James then moved to Capitol Records where he released four now legendary albums during the mid-1970s: Got No Bread, No Milk, No Money, But We Sure Got a Lot of Love (1975); Tryin' Like The Devil (1976); Blackjack Choir (1977) and Ain't It Somthin' (1977). ROLLING STONE, and other music publications, have declared these albums American classics.
During the 1980s James recorded two albums that were released by the German Bear Family Records, American Originals (1985); and Love Songs and The Blues (1989). During the 1990s, James finally released The Road To Torreòn (1992); James Talley:Live (1994); and Woody Guthrie and Songs of My Oklahoma Home (2000). He released Nashville City Blues, in July 2000, and was named Amazon.com's Folk Artist of the Year 2000.
In 2002 he released, Touchstones, a re-recording of some of the classic songs from his four 1970s Capitol Records albums, and in 2004 he released Journey, a live in-concert project recorded while on a tour of Italy. In 2006 James' acclaimed first Capitol album, Got No Bread, No Milk, No Money, But We Sure Got a Lot of Love, was reissued in a 30th Anniversary edition. It was named in the Top 10 reissues of 2006 by No Depression magazine and The Nashville Scene. The music on James' CDs continues to receive airplay around the world.
James performed twice at The White House for President Jimmy Carter, and at the Smithsonian Institution, and in other concert venues around the United States and in Europe. B.B. King played guitar on James third album, Blackjack Choir, in 1976, marking the first time the legendary bluesman had ever recorded in Nashville. Johnny Cash, Johnny Paycheck, Alan Jackson, Hazel Dickens, the late Gene Clark, and most recently Moby, among others, have recorded his songs.
---
---