---
George Jones Biography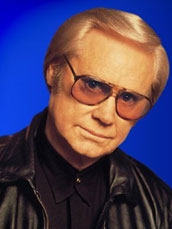 George Jones
Real name: George Glenn Jones
George Jones Biography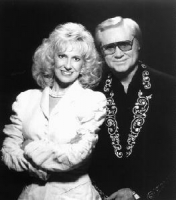 George Glenn Jones (born September 12, 1931), is an award-winning American country music singer known for his long list of hit records, his distinctive voice and phrasing, and his marriage to Tammy Wynette. Jones has had more songs than any other singer on the US Country charts – 167 as of November, 2005.[citation needed] He has also had the most Top 40 Hits – 143 – and is second to Eddy Arnold with the most Top 10 Hits – 78. Over the past twenty years, Jones has frequently been referred to as "the greatest living country singer" and "the Rolls-Royce of country singers." Frank Sinatra once called him "the best white male singer." The country music scholar Bill C. Malone writes, "For the two or three minutes consumed by a song, Jones immerses himself so completely in its lyrics, and in the mood it conveys, that the listener can scarcely avoid becoming similarly involved." Throughout his long career, Jones made headlines often as much for tales of his drinking, stormy relationships with women, and violent rages as for his prolific career of making records and touring. His wild lifestyle led to Jones missing many performances, earning him the nickname "No Show Jones", but Jones never hid or denied his faults and now, with the help of his fourth wife, he has been "clean" for years. Jones clocked up scores of hits during his career, both as a solo artist and in duets with other artists.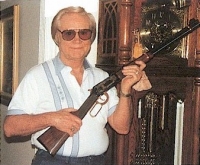 Jones was born in Saratoga, Texas and raised in Vidor, Texas, along with his brother and five sisters (another sister died young before George was born), being exposed to music from an early age from his parents own record collection and listening to the gospel music he heard in church. When George was seven, the Jones family bought a radio which introduced George to the country music that would become his life. The gift of a guitar when Jones was a young boy of nine soon saw him busking for money on the streets of his home town Beaumont. Jones left home at sixteen and headed for Jasper, Texas where he found work singing and playing on a local radio station. Before he was out of his teens he married his first wife, Dorothy, but their union didn't even last a full year and Jones joined the US Marines. Despite the Korean War being fought at the time, Jones never experienced active service overseas, instead he sang in bars near his base in California. After leaving the Marines his music career took off.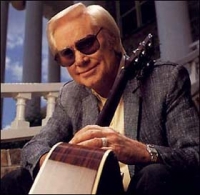 In 1953, Jones was discovered by record producer Pappy Daily, who was also the co-owner of Starday Records, a local Texas label. Impressed with Jones' potential, Daily signed the singer to Starday. "No Money in This Deal," Jones' first single, was released in early 1954, but it received no attention. Starday released three more singles that year, which all were ignored. Jones released "Why, Baby, Why" late in the summer of 1955 and the single became his first hit, peaking at number four. Jones was on the road to success and Daily secured the singer a spot on the Louisiana Hayride, where he co-billed with Elvis Presley. Jones reached the Top Ten with regularity in 1956 with such singles as "What Am I Worth" and "Just One More." That same year, Jones recorded some rockabilly singles under the name Thumper Jones which were unsuccessful, both commercially and artistically. In August, he joined the cast of the Grand Ole Opry and his first album appeared by the end of the year. In 1957, Starday Records signed a distribution deal with Mercury Records and Jones' records began appearing under the Mercury label. Daily began recording Jones in Nashville, and his first single for the new label, "Don't Stop the Music," was another Top Ten hit. Throughout 1958, he was landing near the top of the charts, culminating with "White Lightning," which spent five weeks at number one in the spring of 1959. In 1963, Jones began performing and recording with Melba Montgomery. During the early '60s, mainstream country music was getting increasingly slick, but Jones and Montgomery's harmonies were raw and laden with bluegrass influences. Their first duet, "We Must Have Been out of Our Minds" (spring 1963), was their biggest hit, peaking at number three. The pair continued to record together throughout 1963 and 1964, although they never again had a Top Ten hit; they also reunited in 1966 and 1967, recording a couple of albums and singles for Musicor.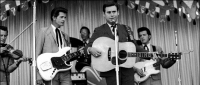 George Jones recorded a fair share of mediocre material, and given the sheer amount of songs he sang, that isn't surprising. Although Jones made a couple of records that were genuine tributes or experiments, he also tried to fit into contemporary country styles, such as the Bakersfield sound. Not all of the attempts resulted in hits, but he consistently charted the Top Ten with his singles, if not with his albums. Musicor wound up flooding the market with George Jones records for the rest of the '60s. Jones' albums for Musicor tended to be arranged thematically, and only two, his 1965 duet George Jones & Gene Pitney and 1969's I'll Share My World With You, charted. That meant that while Jones was one of the most popular and acclaimed singers in country music, there was still a surplus of material. Like his discography, Jones' personal life was spinning out of control. He was drinking heavily and began missing concerts. His second wife, Shirley, filed for divorce in 1968, and Jones moved to Nashville, where he met Tammy Wynette, the most popular new female singer in country music. Soon, Jones and Wynette fell in love; they married on February 16, 1969. At the same time Jones married Wynette, tensions that had been building between Jones and longtime producer Daily culminated. Jones was unhappy with the sound of his Musicor records, and he placed most of the blame on Daily. After his marriage, Jones wanted to record with Wynette, but Musicor wouldn't allow him to appear on her label, Epic, and Epic wouldn't let her sing on a Musicor album. Furthermore, Epic wanted to lure Jones away from Musicor. Jones was more than willing to leave, but he had to fulfill his contract before the company would let him go. Jones signed with Epic Records in October of 1971. It was the culmination of a busy year for Jones, one that saw him and Wynette becoming the biggest stars in country music, racking up a number of Top Ten hits as solo artists and selling out concerts across the country as a duo. Jones had successfully remade his image from a short-haired, crazed honky tonker to more relaxed, sensitive balladeer. At the end of the year, he cut his first records for Epic. "We Can Make It," his first solo single for Epic, was a celebration of Jones' marriage to Wynette, written by Sherrill and Glenn Sutton. The song was a number two hit early in 1972, kicking off a successful career at Epic. "The Ceremony," Jones and Wynette's second duet, followed "We Can Make It," and also became a Top Ten hit. "Loving You Could Never Be Better," followed its predecessors into the Top Ten at the end of 1972. By now, the couple's marriage was becoming a public soap opera, with their audience following each single as if they were news reports. Even though they were proclaiming their love through their music, the couple had begun to fight frequently. Jones was sinking deep into alcoholism and drug abuse, which escalated as the couple continued to tour together. Though every single he released in 1973 went into the Top Ten, Jones' personal life was getting increasingly difficult. Wynette filed for divorce in August 1973. Shortly after she filed the papers, the couple decided to reconcile and her petition was withdrawn. Following her withdrawal, the duo had a number one single with the appropriately titled "We're Gonna Hold On." In the summer of 1974, Jones had his first number one hit since "Walk Through This World With Me" with "The Grand Tour," a song that drew a deft portrait of a broken marriage. He followed it with another number one hit, "The Door." Not long after its release, he recorded "These Days (I Barely Get By)," which featured lyrics co-written by Wynette. Two days after he recorded the song, Wynette left Jones; they divorced within a year.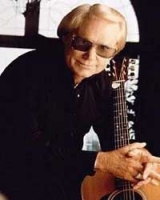 The late '70s were plagued with trouble for Jones. Between 1975 and the beginning of 1980, he had only two Top Ten solo hits. The decrease in hits accurately reflects the downward spiral in Jones' health in the late '70s, when he became addicted not only to alcohol, but to cocaine as well. Jones became notorious for his drunken, intoxicated rampages, often involving both drugs and shotguns. Jones would disappear for days at a time. He began missing a substantial amount of concerts -- in 1979 alone, he missed 54 shows -- which earned him the nickname "No-Show Jones." That same year, doctors told the singer he had to quit drinking, otherwise his life was in jeopardy. Jones checked into a rehab clinic, but left after a month, uncured. Due to his cocaine addiction, his weight had fallen from 150 pounds to a mere 100. Despite his declining health, Jones managed a comeback in 1980. It began with a Top Ten duet with Tammy Wynette, "Two Story House."Although he was having hits again, he hadn't kicked his addictions. Jones was still going on crazed, intoxicated rampages, which culminated with a televised police chase of Jones, who was driving drunk, through the streets of Nashville. Following his arrest, Jones managed to shake his drug and alcohol addictions with the support of his fourth wife, Nancy Sepulvada. Jones and Sepulvada married in March of 1983. Soon after their marriage, he began to detoxicate and by the end of 1983, he had completed his rehabilitation.Jones continued to have Top Ten hits regularly until 1987, when country radio became dominated by newer artists; ironically, the artists that kept him off the charts -- singers like Randy Travis, Keith Whitley, and Dwight Yoakam -- were heavily influenced by Jones himself. Jones moved from MCA to Elektra/Asylum, who signed him on the provision that he would record hardcore country music. Jones was completing work on his debut for the label when he crashed his car into a bridge in Nashville on March 6, 1999, critically injuring himself. Amazingly, he pulled through the accident, but the investigation proved that Jones had been drinking and driving -- a troubling revelation, given his long history with alcoholism. He plead guilty to a lesser charge, DWI, and entered a rehab program. The release of his Elektra/Asylum debut, Cold Hard Truth, went on as scheduled, appearing in stores in the summer of 1999. The Rock: Stone Cold Country 2001 followed in 2001. Hits I Missed...And One I Didn't from 2005 found Jones looking back over the years and picking songs that he originally declined to record, but were hits for the other artists.
---
---