---
Faith Hill Biography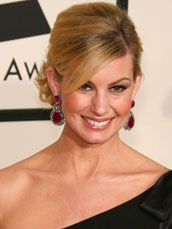 Faith Hill
Real name: Audrey Faith Perry McGraw
Artist name(s): Faith Hill
Faith Hill Biography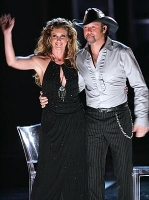 Faith Hill was raised in Star, Mississippi, and grew up with an adopted family in a Christian environment. In 1976, a few days before her 9th birthday, she attended a concert by Elvis Presley at the State Fair Coliseum, in Jackson, which impressed her deeply. As a big-haired high school brunette, she scheduled singing gigs at fairs and churches around her duties as prom queen and cheerleader. At age 19, she left for Nashville, to begin her career in the music industry.
Apart from her quest for entry into the music industry, Hill also began working toward a more robust family life. In 1988 she married songwriter and music executive Dan Hill, who provided the surname she would use as she became famous. Two years later she began a search for her natural mother, whom she eventually met and with whom she corresponded until her mother's death. A co-worker heard Hill singing to herself one day, and soon the head of her music publishing company was encouraging her to become a demo singer for the firm. She supplemented this work by singing backup vocals for songwriter Gary Burr, who often performed his new songs at Nashville's Blue Bird Cafe. During one of those performances, an executive from Warner Brothers Records was in the audience, and, impressed with Hill's voice, began the process of signing her to a recording contract.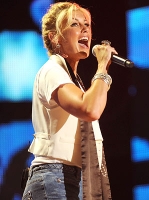 Hill's debut album was Take Me as I Am in 1993; sales were strong, buoyed by the chart success of "Wild One". Hill became the first female country singer in 30 years to hold Billboard's number one position for four consecutive weeks when "Wild One" managed the feat in 1994. Her version of Erma Franklin's "Piece of My Heart", also went to the top of the country charts in 1994. The album sold 3 million copies, and shortly after the release, Hill found her marriage falling apart. She and Dan Hill divorced in 1994. The recording of Faith's second album was delayed by surgery to repair a ruptured blood vessel on her vocal cords. It Matters to Me finally appeared in 1995 and was another success, with the title track becoming her fourth #1 country single. Several other top 10 singles followed, and more than 3 million copies of the album were sold. The fifth single from the album, "I Can't Do That Anymore," was written by country music artist Alan Jackson.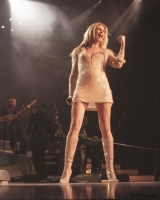 In the spring of 1996 Hill began the Spontaneous Combustion Tour with country singer Tim McGraw. At that time Hill had recently become engaged to her former producer, Scott Hendricks, and McGraw had recently broken an engagement. McGraw and Hill were quickly attracted to each other and Hill broke her engagement so that she and McGraw could begin dating. They were married on October 6th, 1996. After the release of It Matters to Me, Hill took a three-year break from recording to give herself a rest from four years of touring and to begin a family with McGraw. During her break, she joined forces with her husband for their first duet, "It's Your Love". She reentered the music business with 1998's Faith, a more mainstream and pop-oriented offering. "This Kiss" became a number one country hit, and was the first of her singles to place on the pop charts, peaking at number seven. More than six million copies of the album were sold. To follow up this new found success Hill immediately released Breathe, which debuted at the top of the Billboard Country and all genre charts. In 2000 Hill recorded a song for the movie Dr. Seuss' How the Grinch Stole Christmas The song also appeared on the pop and country charts. In 2001, Hill recorded "There You'll Be" for the Pearl Harbor soundtrack, which also appeared on "There You'll Be: The Best of Faith Hill," an international greatest hits album. The album featured some dance mixes of "Piece Of My Heart," "Let Me Let Go," "The Way You Love Me" and "Breathe." In 2002, Hill released her new album with a more pop-oriented sound, "Cry," which won a Grammy Award and more than 3 million copies have been sold worldwide. In 2005, Faith Hill returned with her new country album, Fireflies. The debut single, "MIssissippi Girl" became Hill's highest-debuting single. In 2007, Hill started work on her first domestic greatest hits package, titled The Hits. Also in 2007, Hill also recorded a duet called "Sleeping with the Telephone" for Reba McEntire's Duets album.
---
---