---
Dolly Parton Biography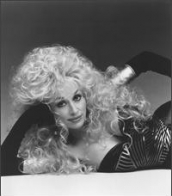 Dolly Parton Biography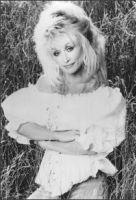 Dolly Rebecca Parton (born January 19, 1946) is an American country music singer/songwriter, author, actress and philanthropist. To date, she remains one of the most successful country artists, with 26 number-one singles (a record for a female performer) and 42 top-10 country albums (more than anyone else).
Parton was born in Sevierville, Tennessee, the fourth of twelve children born to Robert Lee Parton and Avie Lee Owens. Her siblings are Willadeene Parton (a poet), David Parton, Denver Parton, Bobby Parton, Stella Parton (a singer), Cassie Parton, Larry Parton (who died shortly after birth), Randy Parton (a singer and businessman), twins Floyd Parton (a songwriter) and Freida Parton (a singer), and Rachel Dennison (an actress). Her family was, as she described them, "dirt poor." They lived in a rustic, dilapidated one-room cabin in Locust Ridge, a hamlet just north of Greenbrier in the Great Smoky Mountains of Sevier County, Tennessee. Parton's parents were parishioners in the Church of God (Cleveland, Tennessee), a Pentecostal denomination, and music was a very large part of her church experience. She once told an interviewer that her grandfather was a Pentecostal "holy roller" preacher. Today, when appearing in live concerts, she frequently performs spiritual songs. (Parton, however, professes no denomination, claiming only to be "spiritual" while adding that she believes that all the Earth's people are God's children.) On May 30, 1966, at the age of 21, she married Carl Dean in Ringgold, Georgia. She met Dean on her first day in Nashville, at age 18, at the Wishy-Washy Laundromat. His very first words to her were: "You're gonna get sunburnt out there, little lady." Dean, who runs an asphalt-paving business in Nashville, has always shunned publicity and rarely accompanies her to any events. The couple has raised several of Dolly's younger siblings at their home in Nashville, leading her nieces and nephews to refer to her as "Aunt Granny." Dean and Parton have no children together. Dolly is, however, the godmother of singer and actress Miley Cyrus.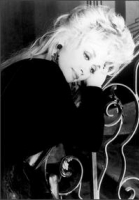 Parton began performing as a child, singing on local radio and television programs in East Tennessee. By age 9, she was appearing on The Cas Walker Show on both WIVK Radio and WBIR-TV in Knoxville, Tennessee, and at 13, she was recording on a small record label, Goldband, and appearing at the Grand Ole Opry in Nashville, Tennessee. It was that night at the Opry that she first met Johnny Cash, who encouraged her to go where her heart took her, and not to care what others thought. The day after she graduated from high school in 1964 she moved to Nashville, taking many traditional elements of folklore and popular music from East Tennessee with her. Parton's initial success came as a songwriter, writing hit songs for Hank Williams, Jr. and Skeeter Davis. She signed with Monument Records in late 1965, where she was initially pitched as a bubblegum pop singer, learning only one national chart single, "Happy, Happy Birthday Baby," which did not crack the Billboard Hot 100. The label agreed to have Parton sing country music after her composition, "Put It Off Until Tomorrow," as recorded by Bill Phillips (and with Parton, uncredited, on harmony), went to No. 6 on the Country Charts in 1966. Her first country single, "Dumb Blonde" (one of the few songs during this era that she recorded but didn't write), reached No. 24 on the country charts in 1967, followed the same year with "Something Fishy," which went to Number 17. The two songs anchored her first full-length album, "Hello, I'm Dolly. That same year, Parton was asked to join the weekly syndicated country music TV program hosted by Porter Wagoner, replacing Norma Jean, who had returned to Oklahoma. Initially, Wagoner's audience was reluctant to warm to Parton and chanted for Norma Jean, but with Wagoner's assistance, she was accepted. Wagoner convinced his label, RCA, to also sign Parton. Since female performers were not particularly popular in the late '60s, the label decided to protect their investment by releasing her first single as a duet with Wagoner. The duo's first single, "The Last Thing on My Mind," reached the country Top Ten early in 1968, launching a six-year streak of virtually uninterrupted Top Ten singles.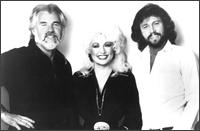 Parton's first solo single, "Just Because I'm a Woman," was released in the summer of 1968 and was a moderate hit, reaching number 17. For the remainder of the decade, none of her solo efforts — even "In the Good Old Days (When Times Were Bad)," which would later become a standard — were as successful as her duets. The duo was named Vocal Group of the Year in 1968 by the Country Music Association, but Parton's solo records were continually ignored. Wagoner and Parton were both frustrated by her lack of solo success, because he had a significant financial stake in her future — as of 1969, he was her co-producer and owned nearly half of the publishing company Owepar.
By 1970, both Parton and Wagoner had grown frustrated by her lack of solo success, and Porter had her sing Jimmie Rodgers' "Mule Skinner Blues," a gimmick that worked. The record shot to number three on the charts, followed closely by her first number one single, "Joshua." For the next two years, she had a number of solo hits — including her signature song "Coat of Many Colors" (number four, 1971) — in addition to her duets. Though she had successful singles, none of them were blockbusters until "Jolene" reached number one in early 1974. Parton stopped traveling with Wagoner after its release, yet she continued to appear on television and sing duets with him until 1976. She stayed with the Wagoner show and continued to record duets with him for seven years, then made a break to become a solo artist. In 1974, her song, "I Will Always Love You" (written about her break from Wagoner), was released and went to #1 on the country charts. Around the same time, Elvis Presley indicated that he wanted to cover the song. Parton was interested until Presley's manager, Colonel Tom Parker, told her that she would have to sign over half of the publishing rights if Presley recorded the song (as was the standard procedure for songs he recorded). Parton refused and that decision is credited with helping make her many millions of dollars in royalties from the song over the years. It was decisions like these, in fact, that caused her to be called "The Iron Butterfly" in showbiz circles. She also claims to have made over $6 million from Whitney Houston's cover version of this song.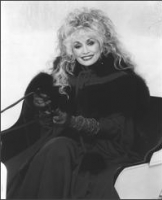 Following this, Parton actively began her marketing as a pop/crossover success. Her 1977 album, Here You Come Again, was her first million-seller, and the title track ("Here You Come Again") became her first top-ten single on the pop charts (reaching No. 3); many of her subsequent singles charted on both pop and country charts, simultaneously. Choosing to spend less time on her songwriting, as she focused on a burgeoning film career, the early 1980s found Parton recording a larger percentage of material from noted pop songwriters, such as Barry Mann and Cynthia Weil, Rupert Holmes, Gary Portnoy, and Carole Bayer Sager. In 1978, Parton won the Grammy award for Best Female Country Vocal Performance for her Here You Come Again album. From the years 1974 to 1980, she consistently charted in the country Top Ten, with no fewer than eight singles reaching number one. Parton had her own syndicated television show, Dolly, in 1976 and by the next year had gained the right to produce her own albums, which immediately resulted in diverse efforts like 1977's New Harvest...First Gathering. In addition to her own hits during the late '70s, many artists, from Rose Maddox and Kitty Wells to Olivia Newton-John, Emmylou Harris, and Linda Ronstadt, covered her songs, and her siblings Randy and Stella received recording contracts of their own. Parton's commercial success continued to grow during 1980, as she had three number one hits in a row: the Donna Summer-written "Starting Over Again," "Old Flames (Can't Hold a Candle to You)," and "9 to 5." [12] "9 to 5", the theme song to the movie Parton starred in 1980, along with Jane Fonda and Lily Tomlin, not only reached No. 1 on the Country charts, but also No. 1 on the Pop and the Adult Contemporary charts, giving her a triple No. 1 hit. Parton became one of the few female Country singers to have a No. 1 single on the Country and Pop charts simultaneously.Parton's singles continued to appear consistently in the country Top Ten: between 1981 and 1985, she had 12 Top Ten hits; half of those were number one singles. Parton continued to make inroads on the pop charts as well with a re-recorded version of "I Will Always Love You" from The Best Little Whorehouse in Texas scraping the Top 50 and her Kenny Rogers duet "Islands in the Stream" (which was written by the Bee Gees and produced by Barry Gibb) spending two weeks at number one.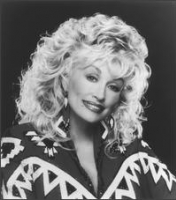 However, by 1985 many old-time fans had felt that Parton was spending too much time courting the mainstream. Most of her albums were dominated by the adult contemporary pop of songs like "Islands in the Stream," and it had been years since she had sung straightforward country. She also continued to explore new business and entertainment ventures such as her Dollywood theme park, which opened in 1986. Despite these misgivings, she had continued to chart well until 1986, when none of her singles reached the Top Ten. RCA Records didn't renew her contract after it expired that year, and she signed with Columbia in 1987. In 1987, along with Emmylou Harris and Linda Ronstadt, she released the decade-in-the-making Trio album, to critical acclaim. The album strongly revitalized Parton's temporarily stalled music career, spending five weeks at #1 on Billboard's Country Albums chart, selling several million copies and producing four Top 10 Country hits including Phil Spector's "To Know Him Is To Love Him," which went to #1. Trio was nominated for a Grammy Award for Album Of The Year and was awarded "Best Country Vocal Performance - Duo or Group." (A second and more contemporary collaboration, "Trio II," would finally see release in 1999 and would be another Grammy-winning success). In 1993, she teamed up with fellow country music queens Loretta Lynn and Tammy Wynette for a similar project, the Honky Tonk Angels album. 1989's White Limozeen, which produced two number one hits in "Why'd You Come in Here Lookin' Like That" and "Yellow Roses." Though it looked like Parton's career had been revived, it was actually just a brief revival before contemporary country came in the early '90s and moved all veteran artists out of the charts. A 1991 duet with Ricky Van Shelton, "Rockin' Years," reached No. 1 in 1991, but Parton's greatest commercial fortune of the decade -- and probably of all-time -- came when Whitney Houston recorded "I Will Always Love You" for The Bodyguard soundtrack in 1992, and both the single and the album were massively successful. In 1994, she recorded the album Honky Tonk Angels with Loretta Lynn and Tammy Wynette. The album was certified "Gold" by the RIAA, and helped revive the careers of Wynette and Lynn.
---
---