---
Dixie Chicks Biography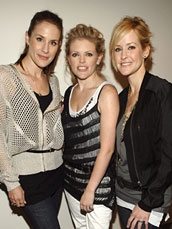 Dixie Chicks
Artist name(s): Natalie Maines, Martie Maguire, Emily Robson
Dixie Chicks Biography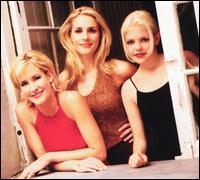 The Dixie Chicks are a multiple Grammy Award-winning female alternative country-rock band, comprised of three women: Emily Robison, Martie Maguire and Natalie Maines. They are the highest-selling female band in any musical genre, having sold over 36 million albums as of May 2008. The group formed in 1989 in Dallas, Texas, and was originally made up of four women performing bluegrass and country music, busking and touring the bluegrass festival circuits and small venues for six years, without attracting a major label. After the departure of one bandmate, and the replacement of their lead singer, the Dixie Chicks achieved massive country and pop success, beginning in 1998 with hit songs such as "Wide Open Spaces", "Cowboy Take Me Away", and "Long Time Gone".
The women became well-known for their independent spirit, instrumental virtuosity, thoughtful song compositions, fierce loyalty, and outspoken comments on controversial subjects, including politics. Ten days before the 2003 invasion of Iraq, lead vocalist Natalie Maines publicly criticized U.S. President George W. Bush. The ensuing controversy cost the group half of their concert audience attendance in the United States, as chronicled in the 2006 documentary Dixie Chicks: Shut Up and Sing. As of 2008, they have won 13 Grammy Awards, with five of them earned in 2007 including the coveted Grammy Award for Best Record of the Year for Not Ready to Make Nice, an album that proved the band's resiliency and appeal, regardless of controversy.

The Dixie Chicks were founded by bassist Laura Lynch, guitarist Robin Lynn Macy, and the multi-instrumentalist sisters Martie and Emily Erwin in 1989. The Erwin sisters have since married and changed their names to Martie Maguire and Emily Robison, respectively. All four women played and sang; however, Maguire and Robison provided most of the instrumental firepower for the band while Lynch and Macy leaned more on shared lead vocals. DEspite critical acclaim, and help from larger acts liek Reba MacIntyret, but found little airplay outside of public radio. That changed in 1995, when Laura Lynch was replaced in late 1995 by Natalie Maines, the daughter of former Chicks' session player Lloyd Maines. The instrumental lineup was essentially the same as it had been when Lynch was the lead vocalist, although instead of playing acoustic bass, Natalie played guitar in concert. Their first album together as a trio followed quickly behind. Wide Open Spaces was released in January 27, 1998. Over the space of a year, the next three singles from Wide Open Spaces reached first place on the Country charts: "There's Your Trouble," "You Were Mine", and the title track, "Wide Open Spaces"; a song reflecting youthful yearning for independence. Wide Open Spaces went on to sell more than 30.5 million copies, becoming one of the 50 best-selling albums in American history. In 1998 the Dixie Chicks sold more CDs than all other country music groups combined. The Dixie Chicks further proved themselves with another hit album, Fly in 1999. Nine singles emerged from it, including country No. 1's "Cowboy Take Me Away" and "Without You." Fly went on to sell over 10 million copies, a rare repeat diamond album.


After the commercial success of their first two albums, the band became involved in a dispute with their record label, Sony, regarding accounting procedures, alleging that in at least 30 cases Sony had used fraudulent accounting practices, underpaying them at least $4 million dollars (£2.7m) in royalties on their albums over the previous three years. After months of negotiation, the Chicks settled their suit privately, and were awarded their own record label imprint, "Open Wide Records" which afforded them more control, a better contract, and an increase in royalty money, with Sony still responsible for marketing and distribution of albums. The three women found themselves home, in Texas, with each happily married, and they began writing songs closer to their origins without the usual pressures of the studio technicians from the major labels. The result was that Home, independently produced by Lloyd Maines, was released in 2002. For tracks not written by the group, outside songwriters were solicited for personal songs that were considered "uncommercial". Unlike the Chicks' two previous records, Home was recorded without drums and is dominated by very up-tempo bluegrass and pensive ballads, hearking back to earlier days before Maines joined the band. Emmylou Harris added her vocals to one song. In addition, the lyrics of the opening track and first single, "Long Time Gone," explicitly attacked contemporary country music radio, accusing it of ignoring the soul of the genre as exemplified by Merle Haggard, Johnny Cash, and Hank Williams.
"Long Time Gone" became the Chicks' first top ten hit on the U.S. pop singles chart and peaked at #2 on the country chart, becoming a major success. Over six million copies of Home were sold in the U.S, and the album won 4 Grammys.

Controversy hit the band in 2003, when during a concert in London on March 10, 2003, at the Shepherd's Bush Empire theatre. During this concert, the band gave a monologue to introduce their song Travelin' Soldier, during which Natalie Maines, a Texas native, was quoted by The Guardian as saying, "Just so you know, [...] we're ashamed that the President of the United States is from Texas. Shortly thereafter, the U.S. media picked up the story and controversy erupted. Maines' remark sparked intense criticism; many Americans believed that she should not criticize George Bush on foreign shores. Maines issued an apology on March 14: "As a concerned American citizen, I apologize to President Bush because my remark was disrespectful ... While war may remain a viable option, as a mother, I just want to see every possible alternative exhausted before children and American soldiers' lives are lost. I love my country. I am a proud American." While some people were disappointed that Maines apologized at all, others dropped their support of Dixie Chicks and their sponsor Lipton. In one famous anti-Dixie Chicks display, former fans were encouraged to bring their CDs to a demonstration at which they would be crushed by a bulldozer. The degree of hatred directed toward the Chicks - including death threats - provoked concern among the band about their safety and that of their families. During a prime-time interview with TV personality Diane Sawyer, Maines said she remained proud of her original statement. The band also appeared naked (with private parts strategically covered) on the May 2 cover of Entertainment Weekly magazine with slogans such as "Traitors," "Saddam's Angels," "Dixie Sluts", "Proud Americans," "Hero," "Free Speech", and "Brave" printed on their bodies. The slogans represented the labels (both positive and negative) that had been placed on them in the aftermath of Maines' statement. The band remained uncertain about its future until the 2006 release of the album Taking the Long Way, produced by mega-rock producer legend Rick Rubin. The first single "Not Ready to Make Nice" dealt directly with the contreversy, and defended the band's right to free speech. The album recieved little airplay, but still debuted number on on the US pop and country charts. The scheduled tour sold out in Canada and northeastern markets, but were notably weaker in in other areas. The album went on to win three Grammys. The Dixie Chicks also ended up the focus of the documetnry Shut Up and Sing, which dealt with the controversy.
---
---