---
Brooks & Dunn Biography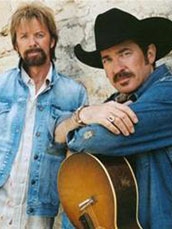 Brooks & Dunn
Artist name(s): Kix Brooks, Ronnie Dunn
Brooks & Dunn Biography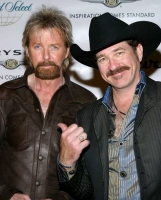 Brooks & Dunn are an American country music duo, consisting of singer-songwriters Kix Brooks (born Leon Eric Brooks III, May 12, 1955 in Shreveport, Louisiana) and Ronnie Dunn (born Ronald Gene Dunn, June 1, 1953 in Coleman, Texas). Both Brooks and Dunn had worked as singer-songwriters before the duo's formation, charting singles of their own in the late 1980s. The duo made its debut in 1991 with their first four singles all reaching the top of the U.S. Billboard country music charts. Their debut album, Brand New Man, was released the same year and was certified 6x platinum by the RIAA. Brooks & Dunn have had more than forty singles on the country music charts, twenty of which have reached number one. They have recorded ten studio albums, two greatest-hits compilations, and a Christmas album. Brooks & Dunn also won the Country Music Association Vocal Duo of the Year award every year between 1992 and 2006, except for 2000 when Montgomery Gentry took the honor. In addition, Brooks & Dunn won the Entertainer of the Year award in 1996. Two of the duo's singles have also been named as Billboard magazine's Number One country singles of the year: "My Maria" (1996) and "Ain't Nothing 'Bout You" (2001). Since early 2006, Kix Brooks has also hosted American Country Countdown, a nationally syndicated radio program which counts down the Top 40 country singles in the United States as determined by the Billboard Hot Country Songs charts.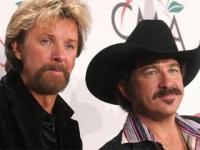 Brooks & Dunn's music covers the full range of modern country music, and their chart-topping hits have included everything from ballads to rock-tinged up-tempos to the gospel music-influenced "Believe." Their up-tempo numbers have been described as "rocked-up honky-tonk".[1] One of their biggest hits, "Boot Scootin' Boogie", is most emblematic of this style. Brooks & Dunn have been generally described as a group that ranges from country-pop to traditional country. Both Kix and Ronnie are vocalists, songwriters, and guitarists; Kix plays mandolin as well. Dunn's vocal performances have tended to be released as radio singles; only one of their Number One singles, "You're Gonna Miss Me When I'm Gone," has featured Kix on lead vocals, and he has not sung lead on any of the duo's singles since 1999's "South of Santa Fe".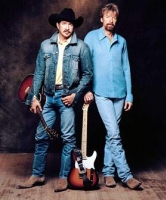 Brooks & Dunn are renowned for their high-energy stage shows. In the summer of 2008, Brooks & Dunn toured on Kenny Chesney's Poets and Pirate's tour. Other recent tours have featured Australian country singer Keith Urban, fellow duo Montgomery Gentry, and Gretchen Wilson. Their Deuces Wild tour of 2005 featured fellow country duo Big and Rich. In 2006, the duo opened for the Rolling Stones at their Omaha, Nebraska show. Also in 2006, they toured with country artist Sara Evans and embarked on their The Long Haul Tour, which featured artists Jack Ingram and Sugarland. The duo's songs have been used by President George W. Bush as his official campaign songs in both his 2000 election and 2004 re-election campaigns. In 2000 then Texas Governor Bush chose the blue-collar line-dance-friending hit of the mid-1990s, "Hard Workin' Man," and in 2004 the President selected the patriotic hit, "Only in America." Brooks & Dunn both supported the President's re-election campaign, performing at a Republican rally featuring Laura Bush on the eve of the election. Brooks & Dunn have recently completed their first tour in Australia.
---
---